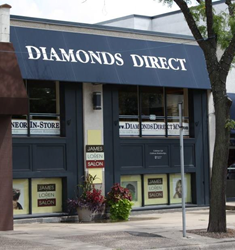 Diamonds Direct will come back with a refreshed attitude and creative flair in what we do and pass that on to our customers.
Minneapolis, MN (PRWEB) April 10, 2015
In order to reach new customers and learn more about the industry, representatives from Minneapolis, MN jewelry retailer Diamonds Direct will attend The SMART Jewelry Show this month in Chicago. The event will take place between April 18 and 20 at the city's Navy Pier and will feature retailers, gem and precious metal vendors, and other fine jewelry professionals from all over the world.
Kristina Mahler, a partner with Diamonds Direct, said that The SMART Jewelry Show will also be an excellent opportunity for the company to meet with buyers face to face. Under normal circumstances, Mahler explained, Diamonds Direct would only speak to vendors and suppliers by phone, but the expo gives them the chance to meet in person.
"It is a great opportunity to get to know the people who might be coming through our doors," Mahler commented. And those people not only include vendors, she said, but buyers who may be trying to find places to get engagement rings.
Yet those won't be the only buyers at the show -- Diamonds Direct will do some purchasing of its own, said Mahler, and for once the company will be the "customer" and meet with vendors from around the world.
Mahler said the company will take the opportunity to purchase loose diamonds or gemstones, along with precious metals such as gold and silver in order to continue creating unique and custom pieces for their customers back home.
Also to be featured at The SMART Jewelry Show are industry learning sessions, which will be available throughout the weekend. Diamonds Direct and other companies can use these workshops to learn about different marketing tricks and tools, discover what types of clients to expect through their doors in the future, and find out how their targeted customer base will evolve.
The SMART Jewelry Show also gives the Diamonds Direct staff the chance to learn about upcoming trends in jewelry design. Mahler said that they are expecting to see a lot of natural, fancy colored diamonds, including yellows, pinks, and champagne; one of this year's potential comebacks, however, is the reintroduction of yellow gold due to some recently released fashion pieces.
The staff members at Diamonds Direct look forward to the event each year and usually try to make it. Not only is it a great professional opportunity that allows their designers to get inspired, but it also helps the staff bond during the trip.
"It's nice to get a change of scenery and do something fun," Mahler said. "We will be attending a couple of fun parties, relaxing, and even having a fancy staff dinner."
Due to the trip, however, the Diamonds Direct store, located at 5037 France Avenue South in Minneapolis, will be closed for the weekend. The temporary change in schedule should have some major advantages later on, though, according to Mahler.
"We're bummed we have to close our doors for the weekend," she said, "but we're very excited to be attending. Diamonds Direct will come back with a refreshed attitude and creative flair in what we do and pass that on to our customers."
About Diamonds Direct
Diamonds Direct, located in Minneapolis, offers a full range of jewelry store services including engagement rings, repairs, appraisals, custom designs, cleaning and inspections. To learn more, visit diamondsdirectmn.com