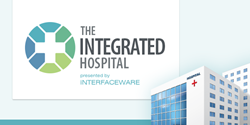 Chicago, IL (PRWEB) April 13, 2015
iNTERFACEWARE®, a software provider committed to simplifying healthcare integration, today announced the launch of a new initiative aimed at helping hospitals to align improving the patient experience with increasing profits through interoperability.
At the HIMSS15 Annual Conference and Exhibition, iNTERFACEWARE (Booth: #7827, Hall: North) will kick off their campaign, entitled The Integrated Hospital. Through a series of presentations, iNTERFACEWARE will demonstrate a vision of what can be achieved by hospitals when there is a clear commitment to interoperability.
The presentations, focused on rooms within the hospital, will be collaborative as iNTERFACEWARE will be joined by two of their vendor partners; Seamless Medical Systems and Skylight Healthcare.
"We are in an unique position, where we can not only leverage our own integration expertise but also the workflow expertise of our provider clients and vendor partners," said Art Harrison, VP of Marketing, iNTERFACEWARE. "We're thrilled to have Seamless Medical Systems and Skylight Healthcare join us at HIMSS to help spread this message."
While The Integrated Hospital presents a vision for hospitals to strive towards, iNTERFACEWARE recommends starting right away. Hospitals of any size can begin moving towards this vision by making continuous improvements quickly.
"Hospitals don't need to have all the data or systems in place to see results," said Toni Skokovic, VP of Sales, iNTERFACEWARE. "As we've seen with our provider clients, marginal yet incremental investments are all it takes to see significant returns."
The presentations will take place at the iNTERFACEWARE booth (#7827, Hall North) and will run multiple times a day for the duration of the show.
Presentation Schedule:
Monday, April 13
12:00pm - The Waiting Room
2:00pm - The Patient's Room
4:00pm - The Boardroom
Tuesday, April 14
12:00pm - The Waiting Room
2:00pm - The Patient's Room
4:00pm - The Boardroom
Wednesday, April 15
12:00pm - The Waiting Room
2:00pm - The Patient's Room
4:00pm - The Boardroom
About iNTERFACEWARE®
iNTERFACEWARE® has been delivering integration solutions for hospitals and other providers since 1997. Today, more than 800 healthcare organizations around the world use iNTERFACEWARE's integration engine, IGUANA®, to connect systems, monitor critical events and automate workflows. For more information, please visit: http://www.interfaceware.com
Media Contact:
Mike St. Jacques
Director, Marketing and Communications
1-888-824-6785