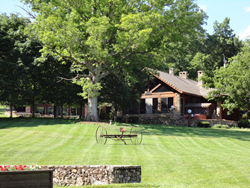 Located in the Ozark Mountains this property borders the Mark Twain National Forest and has breathtaking views including some of the highest points in Missouri
KANSAS CITY, Mo. (PRWEB) April 13, 2015
Qualified buyers will have the opportunity to purchase quality tracts on Sayersbrook Ranch in Potosi, Mo., at a live and online auction Wednesday, May 6. The acreage will be sold in three separate parcels or any combination of the tracts.
Conducted by United Country – Trophy Properties and Auction in conjunction with United Country – Coffey Realty & Auction, the live auction will take place at Bogey Hills Country Club at 1120 Country Club Road in Saint Charles, Mo. The auction will take place at 1:30 p.m. The property will be available for viewing from 11 a.m. to 3 p.m. on Saturday, April 25, and from 1 to 5 p.m. on Tuesday, May 5.
"Our seller recognizes the value of using an accelerated method of marketing – in other words, an auction – to sell their property," said Bill Ziercher, land specialist with United Country – Trophy Properties and Auction. "What does this mean for buyers? It means they have the opportunity to purchase part or all of 'The Jewel of the Ozarks' at an affordable price. Today's market conditions and the auction format allow sellers and buyers to come to a meeting of the minds quickly with a competitively achieved fair market value. In times like these, an auction is the best way to establish what real market value is."
The total property is comprised of about 1,678 acres and will be offered in the following parcels:
Tract 1: Approximately 680 acres

Roughly 6,200-square-foot main lodge and retreat center
Approximately 50-acre lake with lakeside amphitheater
12,000-square-foot commercial building
Recreational, timber and retreat income potential
Tract 2 (Selling absolute): Approximately 683 acres

Turnkey bison or cattle ranch
Mountain lodge home
Suitable for vineyard or winery property
Fishing, deer and turkey hunting
Tract 3 (Selling absolute): Approximately 315 acres

Turnkey bison, cattle or horse ranch
Suitable for vineyard and winery property
Bass fishing, whitetail deer and turkey hunting
Current producing income as an active ranch
"Located in the Ozark Mountains this property borders the Mark Twain National Forest and has breathtaking views including some of the highest points in Missouri," Ziercher said. "Any of these tracts would be perfect for a retirement, golf, waterskiing or lake community development. With abundant hunting and fishing; whitetail deer, duck, turkey, largemouth bass, smallmouth bass, paddlefish and sporting clays this property has it all."
Detailed information about the property for sale, as well as details about the auctions, can be found online at MOLandAuction.com or by calling 314-412-3966.
About United Country
United Country Real Estate – a division of the United Real Estate Group – is the leading, fully integrated network of conventional and auction real estate professionals. The company has been an innovator in lifestyle and country real estate marketing since 1925. United Country supports nearly 600 offices and 5,000 real estate professionals across four continents, with a unique, comprehensive marketing program that includes the highest ranked and largest portfolios of specialty property marketing websites, the largest real estate marketing services company, an extensive buyer database of more than 500,000 opt-in buyers and exclusive global advertising of properties.