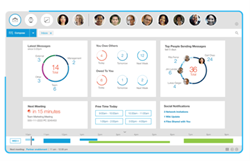 Verse leverages IBM's capabilities in artificial intelligence from Watson, analytics and social media to build a smarter email platform.
Toronto, Ontario (PRWEB) April 10, 2015
94% of those surveyed at some point have felt overwhelmed by information to the point of incapacity (source: The Knowledge Workers Day: Basex).
Email volumes have grown to the point where email is no longer a productive tool, and email has become near universally loathed. IBM is launching a new cloud-based email service that is designed to take some of the chaos out of business communications. In preparation for the launch of IBM Verse, Castlebreck has launched a webinar series to educate Canadian business leaders. "Clients are looking for collaboration and email solutions that will improve productivity and enhance teams," says Breckles, CEO of Castlebreck, Canada's leading IBM Collaboration Solutions Partner. "Verse promises to re-imagine the way companies work, and clients are enthusiastic to find out more."
On April 16th, Business leaders will hear first-hand about IBM Verse from Chris Crummey, IBM's Executive Director of Customer Experience and Evangelism, who will elaborate on the paradigm shift in collaboration. Crummey is a world leader in social business and has been leading discussions about a #NewWayToWork. This free webinar is open to anyone interested in learning about a new way to work. Business leaders can register for this free webinar on Thursday, April 16th, 1:00-2:15 PM EST at
http://castlebreck.com/leveragethe-way-you-work.jsp.
"The team at Castlebreck can't wait to start using IBM Verse in the workplace," exclaims Breckles. "The convergence of social, analytics, cloud, and mobile technologies has impacted our lives. These forces are reshaping how companies work." IBM Verse is the first major advance in email in recent decades. IBM said Verse stems from the company's $100M R&D investment and brings together its cloud, analytics, social and security platforms to "transform the future of work". It leverages IBM's capabilities in artificial intelligence from Watson, analytics and social media to build a smarter email platform. Verse pulls together and organizes messages from a number of sources, including email, social updates, instant messaging and calendars and can integrate with other business tools. It uses the associations between the people and groups involved in tasks to bring understanding to users that they can use to provide more effective project management.
The point of it all is to make email less frustrating, reduce email guilt and save time. IBM cites industry research that shows that 108 billion work-related emails are sent daily throughout the world, resulting in overwhelming stress for the workforce, and making employees and leaders feel like they can no longer cope with workloads. Instead of being paralyzed by unmanageable expectations, information, and management of email, IBM's platforms incorporating mail re-imagined plus an enterprise social network to get things done more easily by using social tools people have become accustomed to in their personal lives to solve businesses challenges in the workplace.
The goal of this innovative Collaboration Webinar Series is to help Canadian Companies learn how to activate their workforces and outperform in the Connected Collaboration Era. Registration for this free webinar event on Thursday, April 16th, 1:00-2:15 PM EST, is available at
http://castlebreck.com/leverage-the-way-you-work.jsp
###