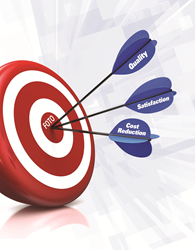 FOTO outcomes provides the accurate patient functional measurement and risk-adjusted benchmarks necessary to administer a value based P4P program. FOTO has the right product to provide a turn key process to ensure smooth implementation of a P4P program.
Knoxville, TN (PRWEB) April 10, 2015
The past several years has seen an increase in payer movement towards P4P and away from fee for service for Medical Care. This allows accomplishing the "Triple Aim of Healthcare" with measurable quality, exceptional patient experience and lower total cost of care. The rehabilitation segment of health care is uniquely positioned to respond to the "Triple Aim" trend because of the availability of widely accepted and accurate outcome measures. Outcomes measures are the basis for developing a reimbursement plan based on provider performance as measured to a national benchmark outcomes system. FOTO outcomes measurement process uses proprietary risk adjusted, benchmarked tools for measuring provider outcomes and reporting to the payer. The outcomes measured are efficiency, effectiveness and patient satisfaction.
FOTO has had experience in administrating P4P programs, starting with a 2006 report to CMS entitled, "Pay-for-Performance for Physical Therapy and Occupational Therapy: Medicare Part B Services" Payers currently using FOTO to help manage a P4P reimbursement system are HealthPartners in Minnesota and BCBS of Louisiana. In addition, FOTO is providing outcomes reporting to Michigan Blue Cross and Blue Shield in a pilot study for similar purposes.
"Blue Cross is a leader in teaming up with providers to determine the best ways to drive quality while saving on total costs of care," said David Carmouche, M.D., Blue Cross Executive Vice President for External Operations and Chief Medical Officer. "With the Quality Blue PT/OT program, we are using an innovative approach to create value for a treatment that many of our members use."
FOTO is used by all providers in the operational P4P programs. FOTO then manages the data and provides a report to the payer that is used to administer the incentive payment to the participating providers. The FOTO report provides a percentile ranking of the providers that places the providers in a payment category according to criteria established by the payer. The payer then uses the FOTO report to pay providers accordingly.
Al Amato, FOTO President, states "FOTO has been working with health care payers for the last 5 years in designing and supporting the move from fee from service to Pay for Performance for Rehab providers. FOTO outcomes are uniquely able to provide accurate measurement of change in patient function and report risk adjusted benchmarks necessary to administer a value purchasing program. We currently support two payers using FOTO in operational P4P programs, and are in a pilot stage with another. FOTO has the right product to provide a turn key process to ensure a smooth implementation of a P4P program for payers."
One of the important aspects of the program is the fact that FOTO is viewed as an independent provider of information. Both provider and Payer view the FOTO reports as unbiased and accurate. This allows both parties to accept the FOTO reports with greater assurance that the data is in no way compromised by one party or the other. FOTO reports are seen as a balanced display of information both parties can rely upon. In addition, both parties understand how the data is collected, reported and used in administration of the program. Program integrity is therefore enhanced and ensures acceptance by all concerned.
For more information, please contact: Al Amato, PT, MBA, President of FOTO (alamato(at)fotoinc(dot)com)
About FOTO
Focus on Therapeutic Outcomes, Inc. (FOTO) is a Knoxville, Tennessee-based corporation that has been continuously improving solutions that efficiently and reliably measure and report functional outcomes for the rehabilitation industry for over 20 years. FOTO's Web-based solutions are risk-adjusted to enable fair and accurate measurement and predictions of the expected improvement in a patient's functional status. Approximately 7 million patient surveys have been compiled in the FOTO database. Researchers have utilized FOTO data to publish more than 85 articles on functional outcomes in refereed medical journals. These publications have led the way in enhancing the science of measuring outcomes and the use of outcomes in payment methodologies. FOTO is considered the standard in measuring functional outcomes in rehabilitation. Visit our website at http://www.fotoinc.com.
About HealthPartners
Founded in 1957, HealthPartners serves more than 1.5 million medical and dental health plan members nationwide. It is the largest consumer-governed, non-profit health care organization in the nation and provides care, coverage, research and education to improve health and well-being in partnership with members, patients and the community. HealthPartners is the top-ranked commercial health plan in Minnesota and is also ranked among the top 30 plans in the nation, according to National Committee for Quality Assurance's (NCQA) Health Insurance Plan Rankings 2014-15. For more information, visit http://www.healthpartners.com.
About Blue Cross and Blue Shield of Louisiana
Founded in New Orleans in 1934, Blue Cross and Blue Shield of Louisiana is a private, fully taxed mutual company, owned by policyholders — not shareholders. It is an independent licensee of the Blue Cross and Blue Shield Association and is governed by a Louisiana Board of Directors. The company and its subsidiaries provide group and individual health insurance plans, life and disability insurance, group voluntary products and administrative services to Louisiana residents. With headquarters in Baton Rouge and eight district offices around the state, Blue Cross and Blue Shield of Louisiana is committed to improving the lives of its customers by providing them with health guidance and affordable access to quality care. Learn more on the company's website at http://www.bcbsla.com.