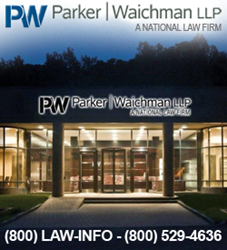 Whistleblowers are crucial to detecting and stopping fraud and ending illegal employer practices that may lead to consumer harm and government fraud
Port Washington, New York (PRWEB) April 13, 2015
Parker Waichman LLP, a national law firm dedicated to protecting the rights of whistleblowers and victims injured by defective drugs and medical devices, reacts to news that a Medtronic whistleblower, a former sales representative for the device maker, was recently awarded $602,000 in a Medicare fraud case filed under the False Claims Act. The lawsuit alleged that Medtronic caused some physicians to submit bogus Medicare claims for an unapproved pain relief procedure. Medtronic agreed to a $2.8 million settlement to resolve the lawsuit: The case is United States ex rel. Nickel v. Medtronic, Inc. Civ. No. 09 - CV - 0203-S, Western District of New York.
According to the Department of Justice (DOJ), the allegations include that Medtronic "caused certain physicians to submit false claims to federal health care programs for a medical procedure known as 'SubQ stimulation'"; that Medtronic's actions led to dozens of doctors in more than 20 states filing Medicare claims for these non-reimbursable procedures from 2007 through 2011; and that Medtronic sponsored "on-site training programs" for doctors to promote the procedure, which was not approved by the U.S. Food and Drug Administration (FDA).
Parker Waichman has long been involved in whistleblower cases and in cases involving defective medical devices, drugs, and procedures. The firm maintains a staff that is consistently working on both issues and has assigned a Paralegal to work on cases involving potential False Claims Act violations involving Medtronic. In fact, the firm is involved in numerous lawsuits brought against Medtronic, is collaborating with several law firms on a number of other cases, and is in discussions regarding potential whistleblower protections for current or former staff who are aware of the promotion of unapproved devices to unsuspecting physicians and patients.
Under certain circumstances, whistleblowers may maintain their anonymity during much of the whistleblower process, according to Parker Waichman. "Whistleblowers are crucial to detecting and stopping fraud and ending illegal employer practices that may lead to consumer harm and government fraud. Settlement agreements such as this enforce the message that actions will be taken against companies that commit fraud and other wrongdoing," Mr. Falkowitz added.
Parker Waichman LLP supports efforts to protect whistleblowers and offers free case evaluations to those individuals who believe their companies may be involved in wrongdoings. If you believe that a government entity or insurer is committing fraudulent activities and would like to maintain your anonymity, contact Parker Waichman LLP at the firm's Whistleblower page at yourlawyer.com or call 1-800-LAW-INFO (1-800-529-4636).