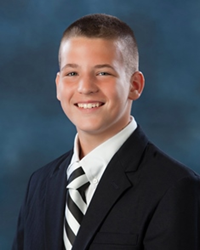 Clark D. Guy, National Conservation Committee Member for The Boy Scouts of America said, "Cole is very energetic and totally focused. He established goals and stayed motivated and determined to meet those goals."
Saltsburg, PA (PRWEB) April 10, 2015
The Kiski School announced Cole J. Frederick, Boy Scouts of America Troop 304, son of Joseph and Lisa Frederick of Greensburg, PA, earned the Boy Scouts of America's William T. Hornaday Silver Medal Award. The Silver Medal is a national award that recognizes those who have made significant contributions to conservation, who have completed certain advancement requirements and performed at least four silver substantial projects. A Hornaday Silver Medal is the most distinguished conservation award given by the Boy Scouts of America, and the standards are rigorous.
Clark D. Guy, National Conservation Committee Member for The Boy Scouts of America and an Advisor to Cole said, "Cole is very energetic and totally focused. He established goals and stayed motivated and determined to meet those goals. For a young man his age, he is not easily distracted and remains on task." The goal of the award is to encourage and recognize truly outstanding efforts undertaken to contribute significantly to natural resource conservation and environmental protection. It was established in 1914 by Dr. William T. Hornaday, director of the New York Zoological Park and founder of the National Zoo in Washington, D.C. Dr. Hornaday was an active and outspoken champion of natural resource conservation. Its purpose was to challenge Americans to work constructively for wildlife conservation and habitat protection. After his death in 1937, the award was renamed in Dr. Hornaday's honor and became a Boy Scouts of America award.The Hornaday Awards are highly prized by those who have received them: Approximately 1,100 medals have been awarded over the past 80 years. These awards represent a substantial commitment of time and energy by individuals who have learned the meaning of a conservation/environmental ethic. Any Boy Scout, Varsity Scout, or Venturer willing to devote the time and energy to work on a project based on sound scientific principles and guided by a conservation professional or a well-versed layperson can qualify for one of the Hornaday Awards.
Cole has worked on four conservation and environmental projects, along with the help of his troop leader, troop members and community leaders. "Dispose of Your Old Paint – Legally and Safely" (latex-based paints only) was an idea Cole had when he helped clean his grandmother's garage. There were several cans of paint that needed disposed of properly and he thought to himself, "if we have some, I am sure other people do too." He collected 918 latex cans and even though it was supposed to be just latex, he also collected 256 oil-based cans of paint and disposed of it all properly. In order to discard latex paint, kitty litter needs stirred into each can and it has to dry and then harden. The cans were then placed in industrial-sized garbage bags. Cole personally funded the project which totaled $409.02 and took 185.5 hours to complete.
The "Fish and Wildlife Management Project" arose from Cole being an avid fisherman. He conceived several ideas of how to promote fish habitat. He contacted the Pennsylvania Fish and Boat Commission and the Somerset County Sportsmen's League to build and place porcupine cribs in Highpoint Lake in Somerset County, PA. They constructed ten crib.All permits were obtained and the US Army Corps of Engineers helped to ensure the proper placement of the cribs. Concrete blocks were placed inside the cribs to make sure they would sink to the bottom of the lake. The project helped the lack of spawning cover and juvenile fish cover in the lake. It took him 162 hours to complete the project.
The "Forestry Conservation and Habitat Project" involved Cole and volunteers replanting a clear cut section of Forbes State Forest. First, 800 tree seedlings were planted including Red Oak, White Pine, and Virginia Pine using a planting bar that was inserted into the ground 8-12 inches deep and was pushed back and forth creating an open void in the soil. The seedling was placed in the void with the roots pointed down and then repeated six inches away from the last one planted. There were 400 American Chestnut seeds planted in holes three to six inches deep. In addition, four bags of seed mix were planted and then ten bails of straw were placed over the seed mix. The project was completed in 285 hours.
The Loyalhanna Watershed Office, the Pennsylvania Game Commission, and the Boys Scouts of America held the "Invasive Species Project" in July 2013 from 8 am to 4 pm. Cole worked on the project for a total of 254 hours and gathered 28 volunteers to help. The group had to remove Multiflora Rose, Honeysuckle, and Autumn Olive, thus allowing the area to return to its natural habitat. The goal of the project was to remove the invasive species from 11 acres. The Pennsylvania Game Commission provided education in identification and proper removal of the invasive species as well as proper application of the herbicide.
Cole said, "My favorite project was the "Fish and Wildlife Management Project" it was really fun. The hardest project was the disposing of the paint. We had to carry so many paint cans and buy so many bags of kitty litter and then drag the bags through the store. The projects gave me a better understanding of natural resources, conservation, and protecting the environment. It was a group effort when it came time to implement the projects. My family, fellow scouts and community leaders helped me a great deal.As a Scout, it is important for me to help my community."
An assembly will be held at the School on Monday, April 13 at 7 pm to honor Cole for receiving the award in the Swank Student Center. At Kiski, Cole participates in soccer, lacrosse, and wrestles and is a member of Kiski's Clay Trap Shooting Club.
The Kiski School is an all-boys boarding school serving grades, 9-12 and post-graduates. Kiski provides an environment in which students can make the most of their potential as they grow in their knowledge of self and learn the mastery of academic disciplines and the value of athletic and artistic endeavors. For more information about Kiski, call 877-547-5448 or visit http://www.kiski.org __title__ The Kiski School].