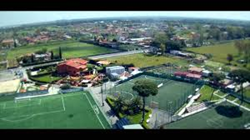 Players will be able to fully dedicate themselves to improving their individual game skills and tactical knowledge with some of the best soccer coaches available.
Rome, Italy (PRWEB) April 14, 2015
European soccer academy, ESSR, begins a 32-week residential and non-residential Player Identification Development Program (PIDP) September 7th, 2015. The academy aims to train and educate youth soccer players with the best tools and resources available. With high-level coaching, competitive matches, European travel and exposure, and a college-prep education through US Performance Academy (USPA), players will participate in a 32-week program with 16 weeks in Rome, Italy and 16 weeks in Manchester, England.
Through the ESSR PIDP, students experience a unique and fully-integrated schedule. Weekday mornings are dedicated to student-athlete education with a blended learning model provided by college-preparatory digital school, USPA. Each student has full support and guidance from teachers, learning coaches, college counselors, and staff at USPA. Weekday afternoons, athletes train with top European coaches. With intensive individual and team training, athletes are able to focus on developing their soccer skills. Each player is given the opportunity to showcase their skills and game knowledge in front of scouts and leading coaches around Europe throughout the 32 week intensive soccer program. On Saturdays, athletes will guest play for their selected squads under the ESSR International Player Intern Program. When players are not on the field, they will attend Premier and Series A league games in England and Italy. Through this program, alongside their academic studies through USPA, the student-athletes will live, eat, and breathe soccer.
"This will be an experience that young players will remember forever," says Dek Smith, ESSR Academy Director. "Players will be able to fully dedicate themselves to improving their individual game skills and tactical knowledge with some of the best soccer coaches available. But beyond that, they will be able to travel, watch professionals play and train, plus gain valuable exposure to scouts. They will play in leading tournaments including showcase events, experience new soccer cultures, meet new people, and stay on top of their education with US Performance Academy."
"With US Performance Academy, players receive a college-prep education, no matter where they are in the world," says Peter Smith, USPA President. "We are pleased to support ESSR soccer players and giving them the best experience possible. Our school was designed specifically for athletes, so we understand their schedule, their mindset, and their drive. Dek is providing young players with an amazing opportunity; and we are excited to be a part of it."
With their tuition, players receive full training with high-level UEFA certified coaches, participation in games, full enrollment into USPA, boarding, meals, lodging, an ESSR player welfare manager, scouting portfolio with coach references and videos, uniforms, match tickets, return flight tickets from Rome to Manchester and ESSR travel kit bag.
ESSR is now accepting applications from highly motivated athletes. Space is limited. In order to receive an application and registration form, please contact ESSR Academy Director, Dek Smith at Dek(at)ESSRacademy(dot)com or call +44 757 207 3170. For more information on the 32 week program, visit ESSR website at http://www.threelionsfa.com. For more information on US Performance Academy, visit http://www.GoUSPA.org.