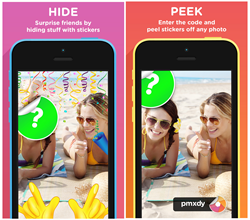 An entirely new way to surprise your friends using photos
Denver, CO (PRWEB) April 10, 2015
Smackback is announcing today an entirely new way to surprise friends with photos. Snap a photo or selfie and use stickers, emoji and text to cover up part of the photo. Share the photo to any existing public or private network and let friends reveal what is hidden. Each photo has a unique watermarked code and secure url that deep links to the photo within the app. Simply fling the stickers off the screen to uncover the photo; even update the photo and re-share it.
Smackback quietly launched on iOS last year and has received over 50,000 downloads. During that time, the small team watched and took away many key learnings that led to the new simplified product. The newest version of Smackback has no registration and no friend network. Just snap, hide and share on existing social networks including Instagram, Facebook, Twitter, SMS and Snapchat. Then get notified when somebody peeks at the photo.
"Giving users a fast and fun way to reveal content to friends has not previously been done in this way", said Alex Welch, Co-Founder of Smackback and ex Co-Founder of Photobucket. "Having lived my entire life building photo websites and applications, I have to constantly step back and ask myself how to innovate and simplify the sharing of personal content."
In conjunction with this new release, Smackback has partnered with The Influential Network to promote the app for the 2015 Coachella Music Festival. An exclusive Coachella sticker pack is available for free, and many top social media influencers will be utilizing the app throughout the event to "smack" their friends and social media followers. "We are truly excited to be working with Alex on this launch of Smackback. The app has been incredibly well-received by our network of influencers, rarely do we see an app that's so creative and frictionless", said Ryan Detert CEO of The Influencial Network.
Smackback is currently available for download in the Apple Store