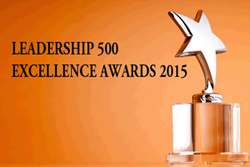 SOUTH ORANGE, N.J. (PRWEB) April 10, 2015
The Gerald P. Buccino '63 Center for Leadership Development at Seton Hall University's Stillman School of Business has been named the top program nationally among educational institutions by Leadership Excellence magazine, which is now part of HR.com. The announcement of the 2015 Leadership 500 Excellence Awards was made at the LEAD2015 forum in Dallas, Texas.
The prestigious awards recognize the world's top leadership practitioners and programs and highlight their roles in developing their most important asset – their people. Former President Bill Clinton delivered the keynote address at the leadership conference.
"We are thrilled to be recognized along with leading organizations, including Alaska Airlines, General Motors and the Baldridge Performance Excellence Program, as a program that excels in developing leaders," said Joyce Strawser, dean of the Stillman School of Business. "We are indebted to director Michael Reuter for his outstanding leadership. We also are most grateful to our Leadership Advisory Council, especially professor Jack Shannon, and to all our Leadership students and alumni. Of course, very special appreciation goes to Dr. Jerry Buccino for his longstanding support of the center and our students."
Hundreds of programs nationwide, including Ivy League institutions, apply for the awards each year. This year's recipients were selected based on either an application or nomination, reviewed by HR.com's expert leadership panel, as well as feedback from the program's participants.
"In this achievement we are humbled to add another extraordinary verse to the jubilant chorus of faculty, students and administrators across our University community who continue our shared purpose to bring Seton Hall to national prominence as a place 'Where Leaders Learn,'" said Michael M. Reuter, Center for Leadership Development director.
The CEO of HR.com, Debbie McGrath, calls the Gerald P. Buccino '63 Center for Leadership Development a role model of excellence for its focus on transforming leadership concepts into business practice. The center's mission is to develop global leaders "who will be recognized for the values and principles by which they live, their vision and purpose in life, the outstanding results that they achieve, their service to the community in which they live and their love, dedication and caring for those they serve."
"I am grateful to the staff, students and leadership of the center under the untiring efforts of Mike Reuter," said Gerald Buccino, a Seton Hall alumnus and a nationally recognized pioneer of "turnaround management" for whom the center is named. "Their efforts all contributed to our #1 ranking among educational institutions for the 2015 Leadership 500 Excellence Awards."
The Leadership Development Honors Program at the Buccino Center offers an intensive, 4-year program that includes diverse experiential and scholastic learning as well as executive mentoring and coaching within the framework of a Leadership Code of Conduct. Graduates of the program are employed at top companies throughout the nation, bringing their leadership center experience into the American corporate structure as well as their communities.