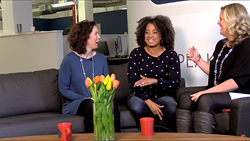 SheSpeaksTV will provide the ultimate platform for women to broadcast and share their stories
New York, NY (PRWEB) April 13, 2015
Responding to the voices of its 250K female influencers, SheSpeaks, the engagement platform that connects influencers with brands, is launching a YouTube channel, SheSpeaksTV. The new channel draws inspiration and ideas directly from members who will be featured in the videos produced by SheSpeaks.
According to Aliza Freud, Founder/CEO, SheSpeaks, "SheSpeaksTV will provide the ultimate platform for women to broadcast and share their stories. When our member research revealed that 82% watch multiple videos online each week, but 52% don't currently subscribe to a YouTube channel because of a lack of relevant content, we knew we were on to something." The launch of SheSpeaksTV will fill that void.
Videos will feature influencers who share stories of friendship and struggle, as well as topical expertise on everything from food to beauty to relationships and parenting, and taps SheSpeak's community of popular bloggers who can now translate their success to video.
"This was a logical, new and exciting step for our women to be spotlighted in a real, visual way and stimulate conversations that are important to them," adds Freud. Women can subscribe to SheSpeaksTV at: https://www.youtube.com/user/SheSpeaksTV
The channel launches this week with videos from top bloggers including Audrey McClelland of Mom Generations, who's Spring Fashion/Color Trends attract a dedicated audience.
Allowance Strategies for Every Age is brimming with tips and features noted bloggers, Joey Fortman, Rene Syler and Charlene DeLoach.
Also featured in upcoming videos will be lifestyle blogger, Vera Sweeney.
The channel will continue to crowdsource ideas for videos from the community as well as feature its members. New videos will be released weekly on SheSpeaksTV.
Future plans include an upcoming two-day Video Event with influencers to be held July 16 & 17 at NYC's Chelsea Piers. Over 400 top bloggers across a variety of categories will convene and film videos for SheSpeaksTV. Brands will also have an opportunity to do sponsored videos during the event.
About SheSpeaks
SheSpeaks, Inc. is an award-winning engagement platform that connects influencers with brands to create compelling content including videos, blog posts, product reviews etc. Our community of over 250,000 members has an immediate reach of over 100 million consumers.
We partner with Fortune 500 brands such as P&G, Citibank and L'Oreal to tailor social media activation programs that generates content and then amplifies and distributes this content to reach millions of consumers. Visit http://www.shespeaksinc.com for more information.