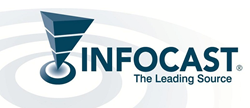 Go-to-place for retailers to hear about omni-channel solutions.
Los Angeles, CA (PRWEB) April 13, 2015
Infocast, the leading business intelligence and networking events producer in the retail and logistics industries, has announced their Omni-Channel Fulfillment & Logistics Summit, to be held June 9-11, 2015 in Orlando, FL.
The emergence of omni-channel commerce continues to reverberate throughout the retail industry. Brick-and-mortar retailers are in the early stages of formulating their omni-channel strategies and transforming their supply chains to address a whole new set of fulfillment and logistic challenges. Yet, they are doing so in uncharted waters.
Infocast's Omni-Channel Fulfillment and Logistics Summit has quickly established itself as the premier place for retailers to hear about potential solutions to their omni-channel fulfillment and logistic challenges—not just a few random presentations in a big expo, but a tightly-focused event devoted exclusively to omni-channel fulfillment and logistics. With an impressive advisory board, including top industry experts from Harry & David, Godiva Chocolatier, Shoprunner, Crocs, Sears, Stein Mart, The Vitamin Shoppe, Chico's and Abercrombie & Fitch, this summit is sure to be filled with a variety of retailers excited to share their omni-channel journey.
Omni-Channel Fulfillment and Logistics is the perfect opportunity for retailers to meet their peers and compare notes about their omni-channel lessons learned and proven solutions—a valuable resource for the industry to chart its omni-channel future.
For more information, to register, or to join as a sponsor, visit the event website at infocastinc.com/omni-channel or contact Infocast at 818-888-4444.
About Infocast
For over 25 years, Infocast has produced the highest quality events, tailored to the needs of the industries we serve. We intensively research the marketplace, pulling from an extensive network of experts to give you the information and connections to succeed.