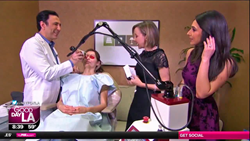 Los Angeles, CA (PRWEB) April 13, 2015
On April 7, 2015, Elle Magazine, in an article titled "This Old Medicine May Be The Best 'New' Acne Treatment," reported that physicians are prescribing spironolactone, a diuretic, to their female patients for the treatment of hormonal acne. Hormonal acne typically appears on the jawline and chin and correlates with the menstrual cycle. The prevailing theory is that spironolactone is effective because it decreases the body's circulating testosterone that causes oil glands to produce acne breakout. Hormonal acne typically afflicts women in the twenties, thirties, and forties. (see: goo.gl/BJvGgm)
"It's important that, as a physician, I have multiple options available to treat acne," says Dr. Simon Ourian, Medical Director of Epione Beverly Hills. "At our clinic, we offer several acne fighting treatments, as well as protocols for addressing acne scars."
According to the Elle Magazine report, there has been a resurgence in the use of spironolactone by women for whom standard antibiotic therapy is proving ineffective. According to a doctor quoted in the article, antibiotics don't work for 70-80% of women suffering from hormonal acne. It can take up to four months for patients to see improvement from spironolactone therapy. Side effects include possibly unsafe drops in blood pressure and dangerously high potassium levels.
"Acne can be emotionally debilitating," says Dr. Ourian. "I'm grateful whenever I have the opportunity to offer a solution to a patient that suffers from this condition."
Dr. Ourian has been a pioneer in laser technology and non-invasive aesthetic procedures including UltraShape, VelaShape, Restylane, Juvéderm, Radiesse, Sculptra, and CoolSculpting. These treatments are used for the correction or reversal of a variety of conditions such as acne, acne scars, skin discoloration, wrinkles, unwanted fat, stretch marks, varicose veins, cellulite, and others. More information about acne can be found on Epione's website.