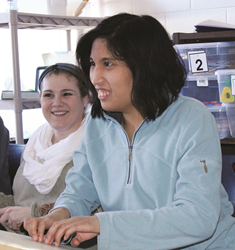 Palatine, Illinois (PRWEB) April 13, 2015
A vital and vibrant community, the New Little City is growing in its mission to enrich the lives of children and adults with disabilities. The expansion of the ChildBridge Center for Education, Little City's therapeutic day school, will open on Friday, April 17th with a private ribbon cutting ceremony and reception.
Through transformational design and innovative programming, Little City's ChildBridge Center for Education provides a distinctive pathway to achieving success and greater independence by uniquely preparing students for lifelong inclusion, at home and in the community. Trained therapeutic staff offer unmatched personal attention to students' needs in the state-of-the-art, adaptive sensory-sensitive facility. To reduce anxiety and drive academic learning, design features include soothing LED lighting, calming colors and curvilinear walls.
Begun in 2013, the planned expansion of the East Wing of the therapeutic day school is now complete. Little City anticipates doubling its enrollment by the end of FY2017, and is increasing its capacity from 22 to 50 students with autism, developmental and intellectual disabilities. The therapeutic day school has doubled in size from 5,000 square feet to more than 10,000 square feet, adding four additional classrooms, a life skills lab, vocational lab, library/media center, two therapy rooms and a sensory gym. The expanded wing also includes a teacher workroom, office and conference room for Individual Education Plan (IEP) meetings.
The expanded space will enable staff to provide a new, dynamic educational routine for Little City students. Students will be changing classrooms every 45 minutes, quite similar to the class schedule of a traditional middle school or high school. Each classroom will act as a Pod, or specialized learning environment, and will hold resources pertaining to a particular subject: math, science, social studies and literacy.
Little City has opened admissions for a limited number of additional students. Contact Tim Gavin, Intake & Admissions Coordinator, today to schedule a personal tour at 847.221.7859 or tgavin(at)littlecity(dot)org.
For more information, visit http://www.littlecity.org or contact Terry Braune at tbraune(at)littlecity(dot)org or 847-221-7831.
###
About Little City Foundation
Our mission is to provide children and adults with autism and other intellectual and developmental disabilities the best options and opportunities to live safely, work productively, explore creatively and learn continuously throughout their lifetime. At Little City, there is no finish line. Our goal is to make tomorrow better than today. The only constant is our desire to change and improve. We do so by continually making great strides to further enrich the lives of those we serve and help them flourish. The organization has a 56-acre campus in Palatine and offices in Schaumburg and Chicago. Visit http://www.littlecity.org.