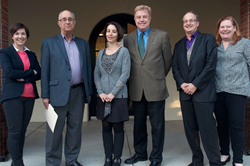 Atherton, CA (PRWEB) April 13, 2015
In April, six influential business authors from the Bay Area had a discussion at Menlo College about writing and local, regional, and national affairs. The discussion's topics ranged far and wide, and included the Indiana Religious Freedom Restoration Act, Ellen Pao, the identity of Millennials, California's water shortage, the future of Silicon Valley, and inspirations for book writing.
The event was the "Hear the Conversation" Authors Roundtable at Menlo College. Inspiration came from the Algonquin Round Table, a celebrated group of New York City writers, critics, actors and wits who dined together regularly in the 1920s. Moderated by Dr. Richard Moran, President of Menlo College and the author of several books on workplace issues and modern business interaction, the authors included:

Jeffrey Pfeffer, the Thomas D. Dee II Professor of Organizational Behavior at the Stanford University Graduate School of Business. He is the author of 14 books, including his latest Leadership B.S.: Fixing Workplaces and Careers One Truth at a Time.
Paul Freiberger, an award-winning author and former journalist for NPR, InfoWorld, San Francisco Examiner, San Jose Mercury News, and The Harvard Business Review. He is the author of Fire in the Valley.
Leslie Berlin, the Project Historian for the Silicon Valley Archives at Stanford University. She has written extensively about Silicon Valley, including The Man Behind the Microchip: Robert Noyce and the Invention of Silicon Valley, a biography of Robert Noyce, co-inventor of the microchip and co-founder of Intel.
Lee Caraher, a CEO and communication strategist who started Double Forte as a new kind of communications firm. Her first book is Millennials & Management: The Essential Guide To Making It Work At Work.
Lisa Kay Solomon, an innovation strategist who recently delivered a TEDx talk and co-authored the bestseller, Moments of Impact: How to Design Strategic Conversations That Accelerate Change.
More author talks are being planned at Menlo College in the months ahead.
About Menlo College
Menlo College was established in 1927 in Atherton, California as a small, private, non-profit school that focuses on business education with a strong liberal arts emphasis. Located in the heart of Silicon Valley thirty minutes south of San Francisco, Menlo has been named among the "Best Colleges in the West" by The Princeton Review four years running and a U.S. News "Best Regional College" for the last two years. http://www.menlo.edu