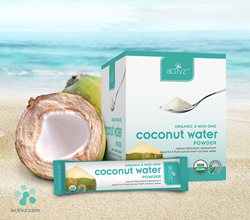 "I drink over 32 oz of coconut water every day. I know coconut water. I've tried a lot of coconut watwaters, and Activz is the best I've ever found." Montel Williams
Salt Lake City, UT (PRWEB) April 13, 2015
Activz Whole-Food Nutrition and its founder, Frank Davis, are pleased to announce that reviews for the new Activz Coconut Water Powder, a whole-food powder made from the nutrient-rich liquid of young, organic coconuts from Thailand, are now available online.
Montel Williams, Emmy Award-winning celebrity and Activz Coconut Water Powder advocate, says, "I drink over 32 oz. of coconut water every day. I know coconut water. I've tried a lot of coconut waters, and Activz is the best I've ever found."
The new Activz Organic Coconut Water Powder, recently reviewed by Montel Williams and others, provides a convenient way to replenish electrolytes after exercise, illness and everyday activities. It comes in a lightweight container, and can easily be toted in a purse, backpack or gym bag and added to a water bottle. Activz Coconut Water Powder is full of replenishing electrolytes, so it makes a great workout companion with no added sugars or artificial flavors or colors.
See a sample of what reviewers have to say about the newest product in the Activz Whole-Food Nutrition revolutionary line of produce powders, Activz Organic Coconut Water Powder:
"This coconut water is refreshing and has the same taste as store-bought coconut water drinks without the added pulp, which is definitely a plus for those who do not like eating the coconut bits." — Ben Chong
"I love the convenience of this powdered coconut water. Just pour it in water, shake, drink and enjoy the taste while getting my electrolytes replenished after a good workout." — Sally Thompson
The most important aspect of this new powdered coconut water is that, although most dehydrated foods and products lose some of their nutrients in the dehydration process, the Activz process is specifically designed to lock those nutrients in, so as not to compromise on nutrition or taste. One serving of the new Activz Organic Coconut Water Powder is equal to ½ cup fresh coconut water. In a coconut shell, Activz may well be the most delicious and naturally nutritious coconut water ever.
Activz Organic Coconut Water Powder comes in standard and family size containers, as well as convenient single-serving stick packs for additions to ½ cup water or juice.
About:
Montel Williams earned his celebrity status as an Emmy Award-winning television personality whom Americans invited into their homes for more than 17 years. He is a decorated former naval officer, inspirational speaker, author, entrepreneur, philanthropist and wellness advocate for patients worldwide.
Activz, found in over 700 stores nationwide, is whole-food nutrition, simplified. Activz is a natural products company devoted to providing "food actives" — the living, bioactive nutrition of whole foods — in the most convenient forms possible, all while retaining 100 percent whole-food integrity. To try Activz fruit, vegetable and juice powders, please visit http://www.activz.com or call (855) 782-0447.