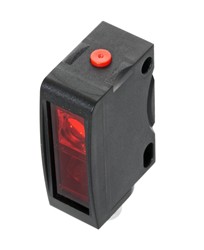 Florence, KY (PRWEB) April 13, 2015
Even though they are compact in size, Balluff's second generation line of 6K miniature sensors provides extensive capabilities in solving the toughest applications. These distance measuring sensors now offer longer sensing ranges, better resolution, and higher repeatability. Five sensing modes are available including background suppression, diffuse, retroreflective, through-beam and contrast.
Not only does the small size provide flexibility in installation, but set up is easy with the simple pushbutton teach. Connections are made by cable, M8 three-pin or M8 four-pin quick disconnect and all versions are now IP67, IP69, and Ecolab approved.
Built to Balluff's high standards, the 6K sensors offer reverse polarity protection and short circuit protection. Balluff's attention to quality, superior sensor design and performance means better reliability, less downtime and higher productivity.
Benefits

Miniature housing for mounting in space limited applications
Reliable position detection independent of material or surface characteristics
Flexible integration with invertible configurable outputs and easy configuration with pushbuttons
Precise and dependable measurement with high repeatability and good resolution
Advantages

Higher resolution and longer ranges - up to 18 m range with through-beam
Red light or laser for easy setup
Scalable voltage analog output
PNP/NPN, NO/NC discrete output with window function
IP69K / ECOLAB certified
See Balluff's complete photoelectric sensor offering at: http://www.balluff.com/balluff/MUS/en/products/overview-photoelectric-sensors.jsp
About Balluff Inc.
Balluff Inc., the U.S. subsidiary of Balluff GmbH, Neuhausen, Germany, is a leading manufacturer of a wide range of inductive, photoelectric, vision, capacitive and magnetic sensors as well as linear position transducers, RFID systems, and networking products. Balluff products for OEM and factory floor solutions are used to control, regulate, automate, assemble, position, and monitor manufacturing, assembly, and packaging sequences for industries including: metalworking, automotive, plastics, material handling, wood processing, aerospace, alternative energy, medical, electrical, and electronics.