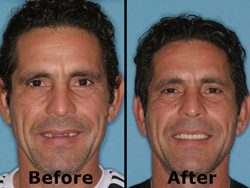 Giori was very grateful to have been given the opportunity. His big smile every day that he shows to the world is proof.
Coral Springs, FL (PRWEB) April 13, 2015
Known as one of the leading dental practices within South Florida, Friedman Dental Group is pleased to announce the recent category addition to the blog on their website. The company blog features a new category entitled "Friedman Cares" that will feature blog posts about the many different ways Friedman Dental Group gives back to their local communities.
The first Friedman Cares blog post details how Friedman Dental Group gave pro-bono dental work to a Cuban immigrant and helped him regain his smile. Dr. Eli Friedman, the leading prosthodontist at Friedman Dental Group recently met Giori, an immigrant from Cuba who is currently working as a personal weight trainer at a local gym. As they frequently worked out together at the gym, the pair quickly became friends. Dr. Friedman could not help but notice that despite Giori's friendly personality; he never smiled or showed his teeth. Dr. Friedman offered pro-bono dental work to Giori - giving him seven dental crowns that completely changed his life and smile.
"Giori was very grateful to have been given the opportunity." "His big smile every day that he shows to the world is proof. He has confidence when talking with people and is not ashamed to laugh anymore. Giori was given more than just new teeth, he has his life back."
Dr. Friedman and Giori often weight train together at the gym. Together, they are two men from two different worlds helping people regain their smiles. In the future, the Friedman Cares blog posts will include details of more pro-bono dental work, information about the charities that the company contributes to, upcoming charity events and other benefits that Friedman Dental Group takes part in year round.
Find out more information about Friedman Dental Group and their new Friedman Cares blog posts by visiting their website directly at http://www.friedmandentalgroup.com/blog.
About Friedman Dental Group:
Friedman Dental Group proudly offers dental care within South Florida with 3 central office locations in Coral Springs, Plantation and Palm Beach. The dentists and staff are professionally trained within multiple procedures and pride themselves on effectively listening to each patient to ensure desired results. The dental practice focuses on providing a team approach in order to allow each staff member to contribute their individual expertise to maximize the patient's benefits.