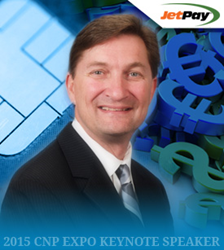 Trent's experiences are lessons businesses can use to navigate a challenging payments environment, take advantage of new opportunities and generate revenue.
Newburyport, Mass. (PRWEB) April 13, 2015
Can the U.S. and Europe learn enough from each other to avoid the mistakes each region has made in their payments evolution? Trent Voigt, CEO of global payment processor and acquirer JetPay, will answer this question in a keynote address at the 2015 CNP Expo.
With its EMV migration, the U.S. is about to face the hard reality of CNP fraud that exploded in Europe through the mid-2000s after their move to EMV. And in the EU, the acquiring environment is shaking out now like the heady days of the 1980s and 90s in the U.S. In his presentation, Voigt will discuss how businesses on opposite sides of the Atlantic can leverage the experiences and blunders endured by each of these regions in the past—how Europe dealt with the surge in fraud that followed the implementation of Chip and PIN, and what EU businesses can learn from U.S. companies as the "wild west" in acquiring came to an end.
And, after the lessons are learned, how can companies that want to expand internationally, maximize their opportunity on both sides of the ocean.
"Education is simply an attempt to draw on the experiences of others so we can avoid past mistakes and improve," said Steve Casco, CEO of CardNotPresent.com and the CNP Expo. "Trent's experiences are lessons businesses in North America and Europe can use to navigate a challenging payments environment, take advantage of new opportunities and generate revenue. If they take his lessons to heart, every CNP Expo attendee can put more money in their pocket."
The 2015 CNP Expo will take place May 18-21, 2015 at the Caribe Royale Orlando. The venue—a new one this year due to double-digit growth in attendees, exhibitors and sponsors—boasts 50 percent more exhibit-floor space than the 2014 CNP Expo and expanded meeting space to accommodate an expected 1,200 attendees. For more information about the CNP Expo or to register, please visit http://www.CNPExpo.com.
About CardNotPresent.com
CardNotPresent.com is the leading informational resource for merchants that accept card-not-present payments and the ecosystem of companies that serve them. The company's media properties include the CardNotPresent.com portal, the CNP Report e-newsletter, the annual CNP Expo and the CNP Awards. Each publication or event is a source of information, education and inspiration addressing the most important payments issues affecting merchants and service providers operating in the space: chargebacks, e-commerce fraud, interchange, alternative payments, mobile payments and more.