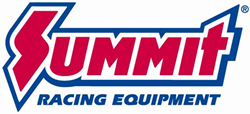 Tallmadge, OH (PRWEB) April 16, 2015
Whether a Jeep owner has 1940s MB, a CJ-anything, a Wrangler, a Cherokee, Liberty, or Commander, chances are Crown Automotive makes parts for it. Crown manufactures over 8,000 different parts—axle, body, brake, clutch, cooling, driveline, electrical, engine, exhaust, fuel, steering, suspension, transmission and transfer case components.
What's more, Crown Automotive tests its parts on Jeeps before letting them out in the world, and backs them with a 12 month/12,000 mile warranty. Considering how hard Jeep people use their vehicles, that's confidence.
Summit Racing carries over 5,000 Crown Automotive parts—and what they don't have, they can special-order. Here are some examples of what Summit Racing has available:
Steering Gear Assemblies
Crown Automotive offers remanufactured manual and power steering gear assemblies (aka steering boxes) for many Jeep vehicles including:

1972-86 CJ
1997-2006 Wrangler
1984-2001 Cherokee XJ
Grand Cherokee WJ, ZJ, ZG
Windshield Frames
Decently used windshield frames for TJ and YJ Wranglers are getting mighty scarce in the salvage yards. And a used MB or CJ frame? Forget it. Fortunately, Crown Automotive has brand new frames made to OEM specs. Some even come complete with weatherstripping and hardware.
Transfer Case Chains
Have a sloppy transfer case? Summit Racing has Crown Automotive components to restore it, including OEM replacement chains. We have chains for these Jeep cases:

New Process 207, 208, 219, 228, 229, 231, 242, 247
Warner Gear 1370
Quadra-Trac for 1976-79 CJ
Carburetors
Crown Automotive has a large selection of remanufactured OEM carburetors as well as Weber carburetor upgrades, and carburetor rebuild kits for owners that want to reuse their original carburetors.
Summit Racing Equipment
http://www.SummitRacing.com
1-800-230-3030