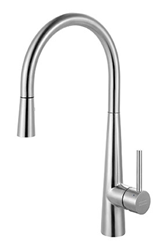 Designed under the direction of product manager Lars Christensen, the new Steel family counts five different faucet models, with list prices ranging from $395 to $595.
Las Vegas, Nevada (PRWEB) April 14, 2015
Franke, the world's largest manufacturer of stainless steel products for home kitchens, commercial washrooms and food-service applications, is introducing a complete suite of kitchen faucets made of solid-stainless steel at price points significantly below the industry norm for this product category. The new Steel Series from Franke Kitchen Systems encompasses a wide range of kitchen faucets and complementary components, with an elegant, contemporary design and water-saving flow rates.
"Others have promoted stainless steel kitchen faucets, but these products often lack critical functions, do not feature stainless steel construction throughout, or carry price points that are upwards of $1,000 — maybe more," says Brad Kiel, Vice President of Franke Kitchen Systems Luxury Segment. "Franke Steel is a true stainless steel product with full functionality at mid-range price points that will fit nicely into many more kitchen-remodeling budgets."
Under $600: Designed under the direction of product manager Lars Christensen, the new Steel family counts five different faucet models, with list prices ranging from $395 to $595. Included are kitchen, prep and bar models that feature a stainless steel pull-down, dual-spray head that extends up to 21 inches and offers full and needle spray patterns.
Two other specialty faucets round out the offering: 1) for applications requiring lower kitchen-cabinet clearances, a nine-inch-tall kitchen faucet with a pull-out — rather than a pull-down — spray that also delivers full and needle patterns; and 2) for the busy home chef looking for extra convenience and superior functionality, a potfiller that rotates 180° and offers a full spray.
The signature feature of all five faucets is, of course, their stainless steel composition, which is not merely a brushed-metallic finish or even a protective stainless steel body encasing a brass and zinc core. Franke Steel faucets are 100-percent stainless steel in their construction and finish, inside and out — from their modern, arching spouts and ergonomic pin handles to their interior waterways that contain no trace of brass or zinc, and therefore no lead.
The only exceptions to this all-stainless-construction are two polymer plastic O-Rings to seal the waterways, ceramic cartridges and the spray hoses. Hose construction consists of a PE inner core protected by a low-friction, smooth nylon, braided, outside mesh.
Stainless steel construction confers a number of important benefits:
Corrosion-resistance: Unlike ordinary carbon steel, stainless steel resists most forms of corrosion, including rust and staining, when exposed to air and water. This makes the material especially suitable for residential kitchens in coastal areas and other wet environments. Stainless is also a good choice for outdoor kitchens where it will likely encounter a variety of weather elements. "An outdoor faucet should always be drained if freezing is a possibility," says product manager Lars Christensen. "But temperatures below 32°F — as well as warmer temperatures at the top end of the thermometer — will not negatively impact the rugged exterior of a stainless steel finish."
Low maintenance: Stainless steel surfaces have no coating and therefore enjoy the double benefit of being easy to wipe clean of fingerprints and other normal smudges, while also being able to withstand harsh, acid or bleach cleaners. Conventional faucets finished with chrome or some other coating usually cannot handle such household chemicals.
Aesthetic appeal: The bright, easy-to-clean surface of stainless steel readily complements the modern kitchen that is apt to include a number of appliances with a stainless steel finish.
Except for the potfiller, all Steel faucets feature spouts that swivel 360°, as well as pin handles for smooth and easy control of flow and temperature. Along with the arched spout and flared base, the modern handle design helps maintains a "family" look in any kitchen equipped with more than one Steel model. But the pin handle also has a practical aspect: While rotating 90 degrees forward from the faucet body, the handle moves only a few degrees to the rear to avoid bumping into the backsplash.
All but one of the Steel faucets uses a 35mm Kerox cartridge and Neoperl aerators, with a flow rate of 1.75 gallons per minute. With its half-inch Fluhs cartridge, the potfiller has a flow rate of 2.2 gpm. (As the name implies, this faucet's job is to fill kitchen vessels with a set volume of liquid, so saving water — via lower flow rates — is not an issue.)
Complementary components: Franke prides itself on being able to offer designers and consumers full kitchen systems: not just the sink and the faucet, but all of the associated components — disposers, grids, filtration, point-of-use equipment, etc. — that maximize functionality while minimizing the hassles of sourcing from multiple suppliers.
For Steel and the other new suites that Franke will bring to market in the coming months, this full complement of products also includes three different Little Butler dispensing systems: cold water only, hot water only, and a dual-handle model that delivers both hot and chilled water. The latter is provided by the Little Butler Chiller, a compact, under-sink unit that measures 14-5/8 inches x 10-5/16 inches x 8-23/32 inches and operates with a flow rate of 0.5 gpm.
"Franke has been a leading innovator in stainless steel products and equipment for a variety of applications for more than 100 years," says Kiel. "Our new Steel kitchen faucet series continues that tradition in a way that will allow many more homeowners to enjoy the beauty and the many long-term benefits of stainless steel."
Available during the second quarter of 2015, the Steel Series is CSA-certified and — since it contains absolutely no lead — fully complies with the low-lead requirements of NSF/ANSI 372: Drinking Water System Components - Lead Content. Like all Franke kitchen faucets, the Steel carries a Limited Lifetime Warranty.
For editorial assistance, contact John O'Reilly at O'Reilly DePalma; tel.: 815.469.9100; e-mail: john.oreilly(at)oreilly-depalma(dot)com.
About Franke
Franke has established its position as the largest stainless steel kitchen sink manufacturer in the world and a leading name in kitchen faucets, hot- and cold-water filtration, undermount sinks and waste disposers. The Franke Group is a world-leading provider of solutions and equipment for domestic kitchens, washrooms, professional food service, coffee preparation and beverage delivery. The group has 72 subsidiaries with more than 9,000 employees in 37 countries and generates consolidated sales of CHF 2.1 billion. For more information visit http://www.frankeksd.com or call 1-800-626-5771.