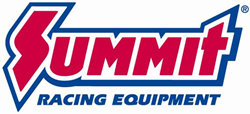 Tallmadge, OH (PRWEB) April 16, 2015
Auto Revolution showcased a 448 small block built by Peter Guy of Peter Guy Racing Engines. The engine made 550 horsepower at 5,600 RPM and a whopping 569 lbs.-ft. of torque at just 3,800 RPM. Summit Racing now offers Auto Revolution 448 CID Ford Parts Combos that allow Ford enthusiasts to duplicate the engine build.
Short Block Combo
Peter based the 448's short block on a Dart SHP block, an Eagle forged crank and H-beam rods, and custom-whittled Ross forged pistons. The oiling system features a Moroso oil pan, Milodon windage tray, and a Summit Racing Street & Strip® oil pump kit.
Heads and Valvetrain Combo
A Comp Cams Xtreme hydraulic roller camshaft and Pro Magnum roller lifters actuate the valvetrain in the Trick Flow Twisted Wedge® 11R 205 aluminum cylinder heads. Other components used include COMP Cam Ultra Gold roller rockers, Trick Flow stud girdles and pushrods, and Fel-Pro head gaskets.
Induction and Ignition Combo
An Edelbrock Performer Air Gap intake manifold and a 740 cfm Holley HP carburetor feed air and fuel to the 448. That air and fuel is lit off by a Summit Racing Street & Strip® ignition system—Ready to Run distributor, coil, CD ignition box, and spark plug wires—and NGK spark plugs.
Gaskets and Fasteners Combo
An engine can't be assembled without gaskets and fasteners. Peter Guy used Fel-Pro, Ford Racing, and Mr. Gasket gaskets to seal the 448, and ARP fasteners to keep it all together.
Completer Combo
This combo has all of those pieces needed to finish a long block including a Summit Racing Street & Strip® harmonic damper, Trick Flow valve covers, Summit Racing starter and mechanical fuel pump, TCI flexplate, and a Scott Drake oil dipstick.
Enthusiasts can watch the 448 Ford engine build in these Auto Revolution videos:
448 Part One
448 Part Two
Summit Racing Equipment
SummitRacing.com
1-800-230-3030