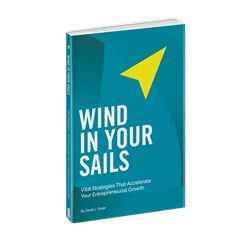 This book energizes entrepreneurs and gives encouragement through practical examples and experiences. It compels one to take action now.
Vancouver, BC (PRWEB) April 13, 2015
Today, David J. Greer launches his book "Wind In Your Sails: Vital Strategies That Accelerate Your Entrepreneurial Growth." Drawing on 35 years of entrepreneurial experience, Greer has delivered a book that helps experienced and novice entrepreneurs alike get clear on their strategy and purpose so they can achieve the progress and results they desire.
Available now on Amazon.com, BarnesandNoble.com, and kobobooks.com, "Wind In Your Sails" is a comprehensive manual containing the theories and practices that set entrepreneurs up for immediate and lasting success. Greer's goal when writing the book was to ensure that readers, even those who spend just an hour with the book, walk away with three concrete actions to accelerate their business within ninety days.
Greer's book comes at a crucial point as millions across the globe attempt--and often fail--to build and grow their own companies. According to a study in Forbes, although around 543,000 new businesses are started every month, even more businesses shut down. More than ever, people are aspiring to become entrepreneurs and found businesses; however, most struggle to achieve the growth and stability they need.
As a life-long sailor, David brings a unique perspective and vibrant stories to the challenges of growing a business. "While you can beat your way against the wind, successful entrepreneurs learn to harness their efforts to seamlessly blow them in the direction they want to go," says Greer. Throughout the book, Greer also highlights ten other entrepreneurs--bringing an even greater depth to his decades of experience.
Advanced praise for "Wind In Your Sails" attests to the power and practicality of Greer's writing:

"This book energizes entrepreneurs and gives encouragement through practical examples and experiences. It compels one to take action now." - Mike Volker, Entrepreneur & NAO Angel Investor of the Year
"David is all about creating immediate results through meaningful actions and his book is no different. Read it and grow. Period." - Isabelle Mercier-Turcotte, Co-Founder Leapzone Strategies
"Wind In Your Sails," published by Inside Out Publishers, includes eleven chapters covering every subject vital to an entrepreneur's success. Addressing everything from "Innovation Strategy" to "Exit Strategy," Greer takes time to address each step of the entrepreneurial journey. For more information on "Wind In Your Sails," (including a free sample chapter, details on Greer, advanced praise, and purchasing information), visit http://windinyoursails.coachdjgreer.com/
About the Author:
While still in university getting his degree in computer science, David Greer joined Robelle Solutions Technology as the first employee after the founders. During David's tenure as co-owner and President of Robelle, David built Robelle into the world's leading provider of HP 3000 solutions.
Since leaving Robelle in 2001, he has been an investor, consultant and employee to a number of technology companies, focusing on turning ideas into products, messaging and results. David now works directly with entrepreneurs to help them bridge to the next level of results—in business and in life.
In his spare time, David enjoys the beauty, water, and mountains of the Vancouver area, while taking occasional adventure breaks with his wife, Karalee. David and Karalee are committed to their three children, spending time supporting them in the many and varied activities they are involved with, including skiing together as a family in Whistler.
Wind in Your Sails: Vital Strategies That Accelerate Your Entrepreneurial Growth
By David J. Greer
Inside Out Publishers
April 2015
Paperback, $27.83, 202 pages
978-0-9940364-0-7