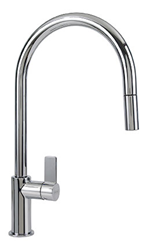 The price points of the new Ambient line are within a range that will appeal to designers and consumers looking to create a kitchen that is as beautiful as it is functional
Smyrna, TN (PRWEB) April 16, 2015
The new Ambient Series from Franke Kitchen Systems encompasses a full range of kitchen faucets and complementary components, featuring a sleek, contemporary design and water-saving flow rates, all at mid-range price points. It is designed expressly for the U.S. market under the direction of product manager Lars Christensen.
Full assortment of faucets: The new Ambient family offers consumers and designers more than a half dozen models to consider when outfitting a new kitchen. Besides the 16-1/2-inch-tall flagship of the line (photo right), Ambient also includes prep and bar faucets, all equipped with a brass pull-down, dual-spray head that extends up to 21 inches. Users can simply toggle between full and needle patterns.
Measuring 18-7/8-inches tall, the Semi-Pro model features an arched, fully rotating, flexible spout that can be fixed into a straight-ahead position with its press-and-click stabilizer arm. Hose construction consists of a silicone inner core protected by a low-friction, smooth nylon, braided, outside mesh.
In markets that require lower kitchen cabinet clearances, the Ambient Series offers an 8-1/2-inch-tall faucet with a pull-out — rather than a pull-down — spray. This model also delivers full and needle spray patterns, as does yet another version that includes the basic Ambient model, but with a sidespray that extends up to 28 inches.
Finally, for those seeking an "executive chef" look in their kitchens — especially if they have ample space above their sinks — Ambient meets their needs with the statuesque Masterchef. Measuring 24 inches-tall, this elegantly designed faucet comes equipped with a pull-down sprayhead that extends eight to 10 inches and, like the Semi-Pro model, is held in place by its press-and-click stabilizer bar.
Available in a chrome or a satin nickel finish, all Ambient faucets feature spouts that swivel 180° or 360°, as well as flat-handle levers for easy, ergonomic control of flow and temperature. The modern handle design maintains a consistently contemporary look in any kitchen equipped with more than one model. But its appeal is more than aesthetic: While rotating 75° forward from the faucet body, the handle moves only 25° to the rear to avoid the nuisance of bumping into the backsplash.
All Ambient faucets use ceramic disc cartridges. The pull-down faucets feature a 28mm Nobili cartridge, enclosed in a protective fiberglass stem that accommodates the slim contours of the series. This cartridge also allows each faucet to offer two flow rates: one gallon per minute (gpm) for a simple light rinse; 1.75 gpm when a more powerful flow is needed. Neoperl aerators are also standard on the pull-down models.
Noting that both settings are well within the stringent flow-rate requirements of both the federal WaterSense program and the state of California, product manager Lars Christensen adds that "the cartridge can be coupled with a restrictor to achieve the even lower flow rates that are required by LEED-certified projects."
Complementary components: Franke prides itself on being able to offer designers and consumers full kitchen systems: not just the sink and the faucet, but all of the associated components — disposers, grids, filtration, point-of-use equipment, etc. — that maximize functionality while minimizing the hassles of sourcing from multiple suppliers. For Ambient and the other new suites that Franke will bring to market in the coming months, this full complement of products also includes pot filler-type faucets and point of use, water-dispensing systems.

The Ambient Pot Filler features the same flat handle and chrome or satin nickel finishes as the other faucets in the series, as well as a half-inch ceramic cartridge made by Fluhs. Offering a flow rate of 2.2 gpm, the spout rotates a user-friendly 180°.
The Ambient Series also includes three different Little Butler dispensing systems: cold water only, hot water only, and a dual-handle model that delivers both hot and chilled water. The latter is provided by the Little Butler Chiller, a compact, under-sink unit that measures 14-5/8 inches x 10-5/16 inches x 8-23/32 inches and operates with a flow rate of 0.5 gpm.
Affordable price points: With the exception of the commercial-grade Masterchef Pull-Down Kitchen Faucet, all the faucets in the Ambient Series carry a list price point below $600 for the chrome finish and below $700 for the satin nickel. (See attached chart.)
"The price points of the new Ambient line are within a range that will appeal to designers and consumers looking to create a kitchen that is as beautiful as it is functional," explains Brad Kiel, Vice President of Franke Kitchen Systems Luxury segment. "With Ambient, we have sought to create a broad suite of products whose consistent, contemporary design will not only complement, but also help unify the aesthetics of a space."
Available during the first quarter of 2015, the Ambient Series is CSA-certified and fully complies with the low-lead requirements of NSF/ANSI 372: Drinking Water System Components - Lead Content. Like all Franke kitchen faucets, the Ambient carries a Limited Lifetime Warranty.
For editorial assistance, contact John O'Reilly; tel.: 815.469.9100; e-mail: [email protected]
Hi-res versions of photographs to accompany this release are available for immediate download in .tif format by using this link:
http://franke.media-resources-ordp.com/2015/ambient-series-kitchen-faucets.shtml
About Franke
Franke has established its position as the largest stainless steel kitchen sink manufacturer in the world and a leading name in kitchen faucets, hot- and cold-water filtration, undermount sinks and waste disposers. The Franke Group is a world-leading provider of solutions and equipment for domestic kitchens, washrooms, professional food service, coffee preparation and beverage delivery. The group has 72 subsidiaries with more than 9,000 employees in 37 countries and generates consolidated sales of CHF 2.1 billion. For more information visit http://www.frankeksd.com or call 1-800-626-5771.