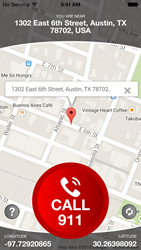 I decided it were time someone created a tool to alleviate future gaps in emergency assistance.
Salt Lake City, UT (PRWEB) April 16, 2015
Locator911, a locating tool created by Youla Mobile Soluctions, LLC, officially launched in the iTunes and Google Play stores this week. Locator911 compiles users' current location data, including an address and latitude and longitude coordinates for police, fire, or EMS, thus improving response times in emergency situations.
"After being involved in the rescue of a critically injured skier in 2008, in which we experienced a delayed response due to a mis-communication on the victim's location, I decided it were time someone created a tool to alleviate future gaps in emergency assistance," says Geoffrey Crockett, CEO of YoulaMobile Soluctions, LLC.
Utilizing a GPS enabled smartphone, coupled with 3rd party mapping and location software, this simple and elegant application provides users with quick and continuous access to their location data, including GPS coordinates and address when available. Locator911 provides a single button dial for 911, allowing users to rapidly identify their location and provide this data to a 911 operator in the event of an emergency.
"At this time, when you call 911 from your GPS enabled smart phone, in over 99% of municipalities around the country, the Operator receiving the call gets only a ten digit number, no address like when you call form a land line. Locator911 will help to solve this problem in the interim as utilities are upgraded over time to parallel the constant growth in current technology," says Crockett.
Locator911 is available now for .99 in the iTunes and Google Play stores. For more information, visit http://www.911locator.org.
ABOUT: Youla Mobile Systems, LLC, was founded by a practicing Emergency Medicine Physician in 2008 with the goal of helping people rapidly access help in an emergency. Recognizing a gap between 911 services provided via a landline versus that of a smartphone, Youla has married existing location technologies into an elegant and simple application that can help save lives in an emergency. Recognizing the limits of GPS, yet utilizing the GPS enabled smartphone technology that is today in the pockets of over 180,000,000 users in the US, Youla Mobile Solutions, LLC provides consumers with their nearest possible location for ease of presentation to 911 operators during an emergency 911 call. This provides the user with the potential for saving time to response by police, fire, or EMS in an emergency.