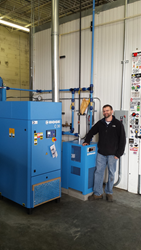 Powder Springs GA (PRWEB) April 10, 2015
Recently, BOGE America made their mark in the trendy world of micro brewing when the company's BOGE C 30 air compressor helped Red Hare Brewing Company - located in Marietta, Georgia – to dramatically expand their canning process.
Canned beer is not a new product; it's been available in the United States for over 80 years. However, cans have long been regarded as the mark of low-quality beer, with glass bottles serving as the packaging of choice for craft brewed beer for years. Thanks to breweries like Red Hare, cans are now making a resurgence due to their lower cost and better ability to protect the beer from light and oxidation. Cans are also smaller, lighter, and more easily recycled.
Red Hare was the first craft brewery in Georgia to adopt canning, and it's proven to be a wise choice: the market has responded favorably to the quality of Red Hare's beer, and that success has driven them to dramatically expand their canning line. Since canning lines are largely air-operated, BOGE America was able to assist Red Hare in their canning expansion.
BOGE America studied the air demands of the new canning system, and custom-specified an air system to suit the expansion.
According to BOGE Area Sales Manager, Kurt Schoeller, the German-engineered BOGE C 30 air compressor was the perfect choice for Red Hare. "Craft breweries are often comparatively small facilities, with employees working in close proximity to machinery, so a BOGE C30, with its small footprint and low noise level, is a great option. The reliability and energy efficiency of the C30 are also very important to young companies that must accurately forecast their costs. BOGE provided a total turn-key air system, freeing Red Hare to focus on other aspects of their expansion."
Red Hare is an innovator in their field: in addition to being the first craft brewery in Georgia to can their beer, they're also the first brewery in the world to use a new high-recycled-content Aluminum can. A reliable supply of clean, dry BOGE Air will help facilitate their innovation for years to come.
About BOGE Compressors
BOGE America is the United States of America Daughter Company of BOGE International GmbH based in Bielefeld, Germany.
BOGE manufactures a comprehensive range of oil lubricated and oil free screw and piston compressors used by all sectors of industry to supply compressed air for a wide range of manufacturing processes. The company also supplies a complementary range of filters, dryers and condensate management equipment. The product is sold and serviced through a dedicated network of over 50 distributors in North and South America.