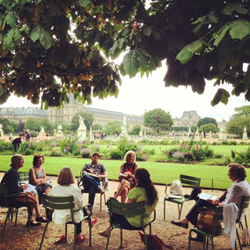 The trip's literary underpinnings create a deep sense of place that you don't get as just a tourist seeing the sights.
Denver, Colo., (PRWEB) April 13, 2015
Bookish sorts who plan their travels around favorite books and authors have given rise to the literary tourism trend, offering an experience that "can be more immersive and fulfilling than your standard vacation," writes Katie Kilkenny in her article "Make Way for Literary Tourism" in the Atlantic Monthly. And the trips often have a big overlap with travelers who are also writers, something Darla Worden discovered when she founded her Left Bank Writers Retreat, held in Paris each June. Recently recommended by the L.A. Times, the annual writing workshop combines a small-group morning writing salon, Parisian café lunches (including in favorite Hemingway haunts such as La Closerie des Lilas) and tours of literary sites, many of them related to Hemingway and his Lost Generation cohorts.
"I'm a traveler, writer and devoted Hemingway fan" says Worden, who will be hosting the Left Bank Writers Retreat for the sixth year this June and is currently at work on a Hemingway book. "I really just created the kind of writing workshop I would want to attend. We keep it small – eight or fewer participants – a perfect size for sipping wine in cafes, taking a boat down the Seine to point out famous literary sites, and building a real camaraderie and first-person experience of Paris that also informs our writing long after we go home. I didn't even know the term 'literary tourism' when I started Left Bank Writers Retreat. I just knew I wanted to offer an experiential travel adventure for writers – the trip's literary underpinnings create a deep sense of place that you don't get as just a tourist seeing the sights."
This year's Left Bank Writer's Retreat will take place in Paris, June 14-19, 2015. The retreat includes morning writing sessions, experimenting with style and genres, for a maximum of eight writers, plus lunch each day, admission to museums and area sights, an excursion to Montmartre, a picnic on the banks of the Seine and a literary tour visiting many of the sites featured in the Woody Allen movie "Midnight in Paris" and Ernest Hemingway's "A Moveable Feast." Cost of the writing workshop and experiential travel opportunity is $1,999.
"Writing in Paris, following in Hemingway's footsteps, trying some of his writing techniques—it all works magic for writers," says Worden. "The Left Bank Writers Retreat has inspired novels, poetry, plays, and historical nonfiction books from writers who attended. This year we are even hosting a second-week reunion of writers who attended in the past—they wanted to do it all over again."
The 2015 Left Bank Writers Retreat will include a visit to the newly opened Picasso museum. "That one was on my list for a long time, but they kept bumping the opening from year to year," says Worden. "Finally I was in Paris this past December and was able to visit and add it to our retreat activities."
Left Bank Writers Retreat facilitator and host Darla Worden is a writer and public relations professional who lives in Denver, Colo. and spends a month in Paris each summer. Worden, interviewed in Insider Perks about her love of travel, has written widely for magazines and authored several books. She writes the popular blog Frenchophile and is currently at work on a book about Hemingway's Paris.
About the Left Bank Writers Retreat:
Now in its sixth year, the Left Bank Writers Retreat welcomes fiction and memoir writers, poets and playwrights. Writers wishing to join the retreat will find an application on the retreat website. The six-day writing workshop and experiential travel opportunity takes place on the historic Île Saint-Louis in the heart of Paris. Writers arrange their own lodging and transportation to Paris. For additional information, visit http://www.leftbankwriters.com.
Media Contact: Darla Worden, WordenGroup Public Relations, darla(at)wordenpr(dot)com, 303.777.7667