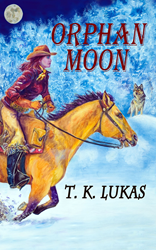 Fort Worth, Texas (PRWEB) April 12, 2015
"Orphan Moon," the debut novel by Fort Worth, TX native T. K. Lukas, is a historical fiction narrative about a young woman in 1860's Texas who must undertake a grueling physical and emotional journey and face countless dangers at the risk of losing everything she holds dear. It is a heart-wrenching saga of family love, loss, and betrayal. Both a gripping adventure and a timeless love story, it gallops across the bleeding edge of the western frontier.
"Orphan Moon" is now available at Amazon in Kindle edition. Paperback and hardcover printed version will be available later this year. The second and third installments of the Orphan Moon Trilogy will be available in 2016.
Praise for: "Orphan Moon": "Loved this book. The story grabs you from the very start. You love the characters or hate them but you feel like you know them all. The story has historical significance as well which made it an even better read for me." --reader review
"If a hot wind blew into 'Lonesome Dove,' and it took someone with 'True Grit' to withstand being 'Gone with the Wind,' you would find yourself in the pages of 'Orphan Moon,' "quips author T. K. Lukas.
T. K. Lukas, an accomplished equestrian and author of the award-winning contemporary short fiction "Of Murder, Mayhem, and Magnolias," lives with her husband on a small ranch in rural Palo Pinto County in North Central Texas. A native Texan, she grew up with a serious affliction - an addiction to horses - of which there is no cure. The only treatment, she discovered, is daily doses of equine contact. Although she loves reading a variety of genres covering a wide subject matter, the stories she writes always have horses somewhere in the story-line.