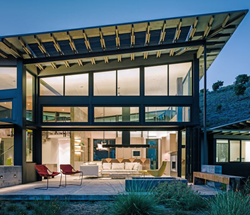 San Francisco (PRWEB) April 13, 2015
The aptly named Butterfly House is an architectural wonder that sits amid a nature preserve in beautiful Carmel Valley, California. As envisioned by its owners and architect, it brings the great outdoors inside. Together, they sought a design which sat lightly on the land and thrust out and into nature, providing unobstructed views of the surrounding environment and wildlife.
According to architect Jonathan Feldman of Feldman Architecture, he was able to seamlessly achieve the design with a floor supported NanaWall SL70 Folding Glass Wall system—which allowed for a façade with the maximum amount of glass.
The homeowners agree, saying that "the NanaWalls really fit our idea of what should be in a house that's really about nature more than about the house. You can be inside but also feel as if you are outside—whether the walls are opened or closed."
"NanaWall made the Butterfly House possible," notes NanaWall Systems CEO Ebrahim Nana. "Our solution enabled these customers to create stunning interior/exterior transitions without compromising heat loss or gain, depending on the season. We're proud to have contributed to this architectural masterpiece."
NanaWall Systems produced a video of breathtaking footage about the Butterfly House, complete with interviews of its architect and owners. The video can be viewed here.
# # #
Media Notes

For more information visit nanawall.com or call 800-873-5673.
ABOUT NANAWALL SYSTEMS
NanaWall Systems redefined the category of opening glass wall systems. During its 25-plus years in business, the company has earned the trust of architects, builders, design professionals, and homeowners as a solutions provider for re-imagining how buildings, people, and the elements interact. By combining precision engineering and outstanding design options across more than 20 unique systems, NanaWall Systems advances design possibilities beyond the conventional for almost any space.
NanaWall Systems is located in the San Francisco Bay Area, with 22 showroom and design studio locations across North America. NanaWall Systems is the exclusive North American partner of Solarlux Germany, the world leader in opening glass wall technology.