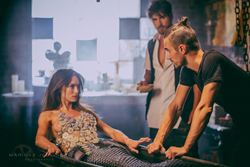 "I can say nothing but great things about the experience here at the festival..." states Gauthier
LOS ANGELES (PRWEB) April 13, 2015
NuMe makes a statement at this year's 2015 Mercedes-Benz Bokeh South African International Film Festival, as they took home the award for Best Film, the highest honor at the festival.
The film was directed by their very own Creative Director, Miguel Gauthier, who has won numerous awards in the past for his film-making prowess. Partnered with fashion photographer and Creative Director of Runway, Viktorija Pashuta, the duo brings an artistic collaboration that encompasses creative with a fresh new perspective at the helm of fashion filmmaking.
Kiss of a Siren was also nominated for eight awards: Best Film, Best Cinematography, Best Director, Best Music, Best Hair, Best Makeup, Best Art Direction, and Best Lead Actress.
As one of the most prestigious fashion film festivals in the world, The Mercedes Benz Bokeh International Fashion Film Festival features work from some of the most talented artists around the globe. Kiss of a Siren mesmerized its audience finishing at the top against globally recognized filmmakers such as, Bruno Aveillan and Ace Norton, taking home the illustrious Best Film award.
"I can say nothing but great things about the experience here at the festival. I am grateful to have had the opportunity to be surrounded by such inspiring creatives, and look forward to collaborating and making amazing work in the future," states Gauthier.
Kiss of a Siren is the story of a mermaid embarking on a romantic endeavor; realizing love isn't enough, she returns to the sea.
The integral costume design of each character imbued the story within the character development and overall arc of the film. Custom headpieces were designed by Miss G Designs, while the 25 lb. mermaid tail was created by Mertailor Eric Ducharme. Costumes were designed and selected by Stylist Tiffani Chynel, The Suehiro Kimono Agency, Caley Johnson, and Erin Brown. Anastasia Durasova lead as key makeup artist, while Atma Hari as featured hairstylist. Gorgeous sets were built by Josh Stricklin Designs.
Mermaid Kariel, Professional mermaid has collaborated with NuMe's Kiss of A Siren, and will post on her social media pages and YouTube channel to help gain traction to this award winning film. Kariel's lifelong passion for mermaids has allowed her to transform her childhood dreams into a revolutionary career as a professional mermaid, creating one-of-a-kind shows for some of the world's top resorts. Click here to checkout the magical world of Mermaid Kariel.
Prior to its win at Mercedes- Benz Fashion Film Festival, Kiss of a Siren won Best Film, and Best Costume Design at the 2014 La Jolla International Fashion Film Awards, as it competed against Gucci, Fendi, Cartier, and other world re-known fashion houses. Kiss of a Siren also took home the Taste Makers Award for Fashion Film, at the 2014 Taste Awards.
###
NuMe is recognized as one of the world's most innovative hair and beauty brands. Salon grade products range from hair straighteners and curling wands to styling sets and personal hair care items. Having revolutionized the hair industry with the clipless curling wand, NuMe has continued to pioneer its way in the beauty industry with innovative styling tools and products, making gorgeous hair a reality for women around the world. NuMe was created with a vision to inspire young women to feel confident about who they are.
For Press Inquiries:
Tania Koster
VP Marketing
tkoster(at)atypicalbrands(dot)com
Office: 818-994-9137