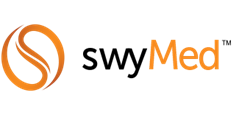 'The combined solution of Kubi and swyMed eliminates deployment issues by delivering secure video collaboration that meets HIPAA standards,' said John Robinson, swyMed's vice president of Marketing.
CHICAGO, IL (PRWEB) April 13, 2015
Revolve Robotics, a leading innovator in robotic telepresence, today announced seamless integration between its innovative Kubi robotic telepresence platform and an innovative telemedicine video communications client from swyMed via Revolve's Application Programming Interface (API) and Software Development Kit (SDK). Together, these two solutions combine to deliver video collaboration with real-time patient data for remote experts, while also enabling those remote consultants to independently engage and "look around" the remote site in order to better assess the patient.
"Telemedicine has quickly moved from a 'nice to have' to a 'must have' solution for healthcare organizations," said John Robinson, swyMed's vice president of Marketing. "While the value of video collaboration has never really been in question, delivering a solution that meets the demanding requirements of a healthcare setting at an affordable price, as well as an understanding of reimbursement and Meaningful Use issues, it has stood in the way of mass deployment. The combined solution of Kubi and swyMed eliminates deployment issues by delivering secure video collaboration that meets HIPAA standards, allows remote experts to consult without being a burden to onsite personnel, and enables the delivery of real-time streaming patient data to the consulting clinicians."
While healthcare professionals are deeply interested in telemedicine, this market has specific requirements that go far beyond simple video conferencing. For example, healthcare organizations require secure, compliant solutions that meet demanding HIPAA standards. Often, healthcare data must be transmitted along with video and audio. They must support or enable "Meaningful Use" and create opportunities for reimbursement, all while offering a quality of interaction sufficient to make accurate diagnoses and provide life-saving treatment. In addition, these solutions need to be flexible and able to perform under physically demanding circumstances (such as the inside of an ambulance) and under less than ideal networking conditions. Finally, healthcare collaboration needs easy-to-use solutions that are affordable enough for all departments.
Revolve's partnership with swyMed has resulted in a combined solution that easily meets all of these objectives. swyMed is the first purpose-built video collaboration client designed to operate under the most difficult circumstances within the healthcare setting. swyMed is optimized to run in low network bandwidth settings and still deliver high quality video conferencing. It works with 3G/4G networks, in ambulances, remote/rural areas, and more. Combined with the Kubi, this gives the remote expert even more flexibility in examining patients under challenging circumstances.
Kubi, which users can experience right now by directing their Chrome or Firefox browser to this link, leverages the conferencing capabilities of today's tablets by introducing a robotic platform or cradle on which the tablet sits. The resulting telepresence robot is then "driven" by the remote video-conferencing participant. Kubi thus turns a consulting expert into an active, on-site participant, as the remote clinician uses Kubi to "look around" the location and actively engages with patients and others without being a burden to onsite staff.
Healthcare workers can see a patient's symptoms in real time, advise/correct treatments administered by others, monitor vitals en route to a facility, and direct treatments by specialists. The joint swyMed/Kubi solution can also be used for in-home physicals, diagnoses, prescriptions, and follow-ups.
"Telemedicine is easily the biggest trend in digital health this year," said Marcus Rosenthal, Revolve Robotics' co-founder and CEO. "The entire telemedicine market is poised to hit $27.3 billion dollars by next year. This growth is driven by the immense productivity and engagement benefits that this model delivers. Our Kubi telepresence platform, combined with the partners we've announced today, extend telemedicine's benefits with added flexibility, engagement, and productivity."
Kubi is ideal for the telemedicine market, as it delivers three significant benefits that differentiate it from the competition:

Kubi dramatically improves the level of engagement: Compared to other telepresence options, Kubi delivers a level of engagement that transforms the video collaboration experience. It forces passive listeners to become engaged participants – a critical element for physicians interacting with patients remotely.
Kubi delivers superior productivity: Kubi removes all of the obstacles that make video collaboration difficult; the need to adjust screens, move tablets around, repeat your words again and again. Doctors, consultants and patients can interact with one another as if they were in the same room, enabling everyone to get more done. What's more, users can "teleport" from one KUBI to another, whether it's in the next room or around the world.
Kubi easily fits into the existing infrastructure of today's healthcare organizations:
-- Kubi leverages the existing collaboration capabilities you already have
--- Integration with UC ecosystem
---Works with today's tablets
-- Kubi is affordable
-- Kubi is incredibly easy-to-use and maintain
For parties interested in learning more about Revolve Robotics's joint solutions with swyMed, you can contact John Robinson or stop by swyMed's booth #7164 at this year's HIMSS 2015 conference and tradeshow, taking place in Chicago April 12-16.
About Revolve Robotics
Founded in 2013 by robotic entrepreneurs Marcus Rosenthal and Ilya Polyakov, Revolve Robotics is one of the world's leading innovators in robotic telepresence. Revolve Robotic's flagship platform, the KUBI, has been shipping worldwide since January 2014. KUBI means "neck" in Japanese, and it is a robotic tablet stand that gives you the freedom to interact while video conferencing. KUBI delivers robotic telepresence for telehealth, distance learning, remote working, concierge and other applications. Revolve Robotics is dedicated to creating smart, simple solutions to real problems, timeless design, and an elevated level of practicality and functionality. Revolve Robotics is a privately held company based in San Francisco. For more information, please visit us at http://www.revolverobotics.com and follow us @RevolveRobotics.
Revolve Robotics Media Contact:
Jay Nichols
Nichols Communications
(408) 772-1551
jay(at)nicholscomm(dot)com
About swyMed Telemedicine
swyMed is the dedicated telemedicine video communications and integration solution by swyMe, Inc.  It is based on the swyMe vBot (Video Basis Optimization Technology), but optimized for medical and mobile medical use.  Primarily used in several hospitals, behavioral health clinics, and other healthcare organizations throughout the United States, swyMed has recently been extending into emergency medical services and home health. It has been successfully demonstrated to work in moving ambulances in rural areas and for in-home emergency use (via ambulance/EMTs) with low network connectivity, and now integrates controls for robotic use such as Revolve Robotics' KUBI.
swyMed Media Contact:
John Robinson
VP, Marketing
617-580-3464
john(at)swymed(dot)com