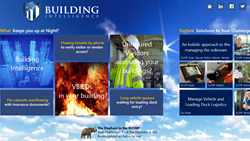 The value in having this Apportal as a means of providing information to our partners and customers is extraordinary
New York, NY (PRWEB) April 13, 2015
Building Intelligence Inc. announced today that they will introduce their Security Apportal later this week at ISC West at the Sands Expo Center in Las Vegas, NV. The Apportal was developed by Bloom Consulting Group Inc. to help Building Intelligence customers and partners "experience" their solutions through an interactive Microsoft Windows-based Apportal (pronounced "app portal").
An Apportal is a Windows 8.1 enterprise App that can integrate a company's entire Line of Business (LOB) stack, social media, news, and business intelligence into a single, modern, touch-based experience seamlessly across Windows-based devices. Bloom Consulting Group, one of the few partners in the U.S. trained by Microsoft in late 2014 to develop Apportals, already has clients using a custom designed Apportal; however, Building Intelligence is the first company in the physical security Industry to utilize an Apportal of this kind.
"Today, public sector and commercial sector security professionals are struggling with consolidating information in a meaningful way for their executives, channel partners, employees, and customers. Employees must learn how to use multiple applications, tools, reports, and systems. Then they must toggle between them throughout the day to get the information that they need extracted and packaged up for stakeholders. All of this results in very low productivity and high frustration. In addition, employees are moving between laptops, mobile phones, and tablets continuously."
"Eighty percent of mobile users are viewing information through Apps because viewing information on a device via a Web browser is a very poor experience. The future of great experiences in the Enterprise will be viewing enterprise information through Windows-based Apps," said Bloom Consulting Group's President, Heather Zindel.
"The concept behind a Windows Apportal, according to Microsoft, is simple—provide a single view of the heterogeneous Apps that exist in organization today in an "on-the-glass" experience. Microsoft has been evangelizing that in today's diverse organization environments, it is not realistic or desirable to build a single, monolithic application.
Instead, organizations can use the flexibility of the Windows 8.1 OS to create a UI-based virtual integration. With the help of firms like Bloom, business users can initiate a new way to experience information in the enterprise that is extremely simple, intuitive, and designed specifically for the modern UI. And, because we can deliver the App based on the user's role in the organization using Active Directory right from the start menu, the experience is all the better because it's customized."
Zindel added, "With Windows 10 launching later this summer and new Cortana APIs that will allow users to interact with their Enterprise App using voice, I believe the demand for Windows-based enterprise applications for security professionals will surge to deliver more relevant information to users quickly and to ease mobile workflows. As an innovative company, Building Intelligence understood this solution concept immediately. I am thrilled that we could deliver such a great Apportal for Building Intelligence to help their customers and partners "experience" the company's quality security services in a new way."
At the ISC West Conference, the Building Intelligence Apportal will provide an "at a glance" overview of the company and its value proposition, SaaS offering, and various security products. The App will be available in the Windows App Store when the show opens on Wednesday, April 15, however soon it will also be available to Building Intelligence partners for an "on the go information toolset" for iOS and Android so they can take anywhere with them on their favorite mobile device.
An Apportal can be designed to include interactive tiles embedded with dynamic data driven from on-premises or cloud-based data sources including live data from social news feeds, as well as static application content stored locally and accessible without a connection to the Internet. The ability for someone in the business (versus IT) to update the Apportal quickly and seamlessly makes it a fantastic sales and marketing tool. The Apportal can be design to run cross-platform on Windows, iOS and Android platforms.
"The value in having this Apportal as a means of providing dynamic information to our partners and customers is extraordinary," said Laurie Aaron, Executive Vice President and Chief Marketing Officer for Building Intelligence. "It is phenomenal to think that anytime we have a newly released product feature or change in our price schedule, we can configure the update in an Azure-based database tied to our App in the Windows App store, and it will reach all of our partners and customers that have downloaded our App. Bloom's Azure-based configuration vision aligns with our SV3® SaaS model such that changes are seamlessly pushed to the edge, requiring little to no on-site service.
Those who have downloaded the App will get an automatic update, keeping them current and fresh! From a sales and marketing perspective, this allows us to scale quickly and provide a constant presence to our customers and partners that normally would require ten times the resources."
The Apportal, designed by Bloom Consulting Group, representing the Building Intelligence solution, can be experienced at Booth #6039 at the Sands Convention Center in Las Vegas, NV on April 15 – 17.
About Building Intelligence, Inc.:
Building Intelligence is a software company providing innovative technology solutions for security practitioners and building owners to manage visitors, vehicles and vendors. Building Intelligence Inc. is a privately owned business based in New York, NY. The firm's cloud-based solutions are known as Shortpath, SV3 and Secure Vendor. These applications are uniquely positioned to address a niche in the security market improving operations and lowering risk associated with the management of visitors and vendors as they enter on foot through the front door or in a vehicle at the loading dock or parking area. The modular solution set is being widely adopted in many major metropolitan markets and being sold, deployed and supported by an authorized security systems integrator channel with expertise in the identity and access management domain.
About Bloom Consulting Group, Inc.:
Bloom Consulting Group, Inc. is a world class business management consulting and enterprise application development firm based in Redmond, Washington, that serves leading businesses and public sector organizations. Bloom helps its clients grow their business by delivering a range of high-impact strategy consulting, creative design, business intelligence, development (web, application, mobile, SharePoint), social, cloud, and project management services. Bloom Consulting Group, Inc. was purchased by Daves + Associates, Inc. in 2009 to strengthen its solution selling capability and is now a wholly owned subsidiary. In the twelve years that the firm's principals have worked together, the team has delivered over 1000 projects and worked with Fortune 500 companies such as Xerox, Disney, HP, GardaWorld, IBM, Cisco, Citrix, and Microsoft.
In addition to the firm's Redmond headquarters, the firm has sales offices in Atlanta, D.C., and Irvine.
Learn more about the new ways that Bloom Consulting Group is serving clients by following us on Twitter (@Bloom_CG) or on our Blog. You can also learn more on our Facebook or LinkedIn pages.