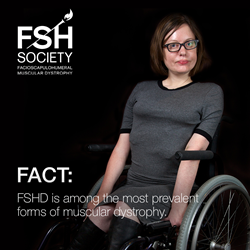 These meetings offer patients, family members and friends of people with FSHD a common place to socialize, brainstorm and learn from one another.
Boston, MA (PRWEB) April 11, 2015
The FSH Society, the Massachusetts-based charity that has transformed the science of the little-known and incurable disease, facioscapulohumeral muscular dystrophy (FSHD), will host five patient meetings this coming spring across the United States. These meetings offer patients, family members and friends of people with FSHD a common place to socialize, brainstorm future fundraising and advocacy events and learn from guest speakers.
The patient meetings this spring include:

Hobe Sound, FL: April 12, 2015 – The FSH Society and Mimi Brown, FSHD patient and resident of the Retreat at Seabranch, will host this patient meeting. Anyone living with FSHD in the Florida area is invited to attend this afternoon of socializing and discussion to raise funds and awareness for FSHD.
Denver, CO: April 14, 2015 – This meeting will bring together people affected by FSHD in the Denver area to discuss medical resources, fundraising ideas and future directions for this Denver-based group. Beth Johnston, FSH Society board member, will host the gathering.
Los Angeles, CA: April 18, 2015 – Not only does this meeting unite people from the Southern California region, but guest speaker, Alexandra Schang, PT, DPT, NCS, RYT-200, will lead a session on "mindful movement and yoga for people with FSHD."
Baltimore, MD: May 2, 2015 – This meeting will give attendees a chance to learn about some of the important developments in FSHD research. Dr. Carla Grossmann from Kennedy Krieger will give a presentation titled, "Bone Health in FSHD: What do I Need to Know?"
Boston, MA: June 13, 2015 – FSHD patients throughout New England will have a chance to network and learn about research by Dr. Seward Rutkove of Beth Israel Deaconness Hospital. He is working to develop a new technology for measuring muscle condition in preparation for future drug trials. A study to validate this technology is being funded by the FSH Society.
People interested in attending these meetings can visit the FSH Society's website at fshsociety.org or contact the Society's office at 781-301-6649.
"It is our hope that these patient meetings will help to further push our latest social awareness campaign, #CureFSHD, forward," said Daniel Perez, President and CEO of the FSH Society. "The #CureFSHD campaign has helped us educate people about the little-known facts, warning signs and impacts of FSHD."
The #CureFSHD campaign featured portraits of twenty-one individuals with FSHD of all ages and backgrounds overlaid with facts about the disease. These portraits are being shared over social media to generate awareness for the incurable disease.
Affecting an estimated 870,000 people worldwide, FSHD is one of the most common muscle dystrophies. The genetic disorder presents a lifelong progressive loss of skeletal muscles, typically beginning with the muscles of the face (facio), shoulder blades (scapula) and arms (humerus), though the disease may progress to affect any skeletal muscle on the body. Approximately one-quarter to one-third of patients end up in wheelchairs.
About the FSH Society
The FSH Society, founded in 1991 by two FSHD patients, is a world leader in combating muscular dystrophy. The non-profit has provided millions of dollars in seed grants to pioneering research worldwide, creating an international collaborative network of patients and researchers. The FSH Society seeks to serve as a source of information and support for all patients and families with FSHD; act as a driving force in the development of research directed towards treatments and ultimately a cure; and bring support to patients and research for FSHD through effective engagement of governmental and private sector organizations and entities. For six consecutive years, the Society has received the Charity Navigator's four-star rating, the highest distinction held by less than four percent of non-profit organizations in the country. The FSH Society offers a community of support, news and information for FSHD patients and families through its website at http://www.fshsociety.org. For more information about FSHD, please contact the Society at 781-301-6649.