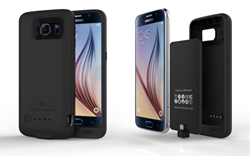 When life gives you lemons, make zerolemon!
(PRWEB) April 12, 2015
ZeroLemon Launches 2800mAh Slim Battery Case for Galaxy S6 Phone
The company has launched Galaxy S6 2800mAh battery case with removable external battery.
April 15, 2015 – ZeroLemon will unveil the first battery case, with a removable battery for external use, for the Samsung Galaxy S6 phone. It features a 2,800 mAh battery, providing an additional 110% charge and helping people stay connected in the current digital era.
Both sleek and durable, the case withstands everyday use and can survive high impact drops.
The product overcomes the Galaxy S6's limited battery life. It provides straight through charging and is an alternative to external powerpacks and USB connectors. The unit measures a convenient 6.19 x 2.9 x 0.7 inches.
The charge level is indicated via four LED lights. A U-shaped charge cable is included. For more details on the product, the company's 30-day money back guarantee, and 12 month ZeroLemon Defect Promise, go to http://zerolemon.com/product/zerolemon-samsung-galaxy-s6-2800mah-slim-power-battery-case-black/
Facebook page: http://www.facebook.com/zerolemon
Contact: Christian Teran / Echo Yin
Email: christianteran(at)zerolemon(dot)com/echoyin(at)zerolemon(dot)com
Phone: 1-530-750-9366