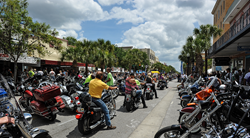 Leesburg Bikefest activities appeal to riders and motorcycle enthusiasts. With 3 headline concerts, 75+ regional concerts, vendors, demonstrations, shows and 5 hot body contests, there is something for everyone!
Leesburg, Florida (PRWEB) April 14, 2015
Leesburg Bikefest, taking place April 24-26, is estimated to draw a quarter-of-a-million-plus riders and concertgoers to attend its 75+ concerts and multiple special events shown at 12 visitor-friendly entertainment venues.
In addition to its ever-popular, admission-free headlining concerts – this year featuring legendary rock singer/guitarist Lita Ford, Puddle of Mudd and The Marshall Tucker Band – new to Bikefest this year is: 4 wheel beauties by Classic Car's "Cruisin' Couples;" "Movie Row," a collection of cars famous for being a part of memorable movies from the past, along with "Then and Now" (comparing classic cars to their modern counterparts); the POW/MIA memorial Dragster and the Abrams MIA Tank scaled replica; the Rat's Hole "Baddest Bagger Show" Contest (applications available online); the Introduction of The International Bikini Team, showcasing their models at the Hot Body contests, and; American Motor Drome's Wall of Death thrill show Arena.
To keep the party rocking, popular regional acts like Lazy Bonez, Bobby Friss Band, Blues Brothers Revisited, C.G. Keys Dueling Pianos, Michael Allman Band, 10,000 Views and Nova Rex are just a few of the bands who have been tapped for performance at the venue-rich Festival.
Perennial entertainment favorites include the Rat's Hole Custom Bike Show (applications available online); the Team Extreme Street Bike Stunt Show; Ride Like A Pro Class (teaching Motor Officer safety and riding techniques); Drill Team Demonstrations; Biker Games; the Tattoo Expo; five Hot Body Contests; two Poker Runs and; multiple showings of the ever-popular Disc-Connected K-9's, the World Disc Dog competitors, claiming five world championship titles. Friday evening will feature the LED Parade showcasing a kaleidoscope of stunningly illuminated motorcycles, that will light up Leesburg's downtown Main Street. Add to that more than 250 vendors selling wares from leather to jewelry throughout the event.
The Early Arrivals Party will take place on April 23 starting at 9:00 a.m. at Gator Harley-Davidson with music, vendors, food and fun and at 3:00 pm the famous Rat's Hole Bar in Downtown Leesburg opens their doors to continue welcoming Bikefest 2015's first visitors.
The Leesburg Partnership spends all year planning the event to ensure for the comfort, safety and enjoyment of the crowds that roam the 30 city blocks cordoned off, open-container event. Along with planning for parking, safety, shuttle services, care services, an AA-support facility and clean up, they've teamed with Century Link to provide streaming video for both onsite and offsite viewing at The Eagle View.
For more details, visit http://www.LeesburgBikefest.com or follow its Facebook, Twitter, YouTube or Foursquare accounts.
Hi Resolution Photos available upon request.