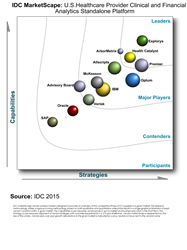 Explorys is positioned as a leader in this report due to exceptionally high ratings from its customers on the platform and the value realized from the Explorys investment.
Chicago, IL (PRWEB) April 12, 2015
(HIMSS booth #5040) — Explorys, the leader in big data-driven healthcare transformation, today announced that it has been named a leader in the IDC MarketScape , entitled "U.S. Healthcare Provider Clinical and Financial Analytics Standalone Platform Vendor Assessment, doc #HI255139, April 2015." The company is one of 12 vendors that were evaluated in the report.
This IDC MarketScape report provides an evaluation of the leading clinical and financial analytics platforms for the healthcare. Explorys is positioned as a leader in this report due to exceptionally high ratings from its customers on the platform and the value realized from the Explorys investment.
"Explorys has been a tremendous asset for us as out network moves from a fee-for-service world into value-based contracts. We've leveraged Explorys to improve and maximize our quality outcome," said Kevin Attride, Director of Clinical Integration, Adventist Midwest Health.
The report notes that Explorys' cloud-based open platform and environment is built for future growth, with third-party SQL tool support, strong data management tools, and many options for extensibility. Explorys reinvests a significant amount of its revenue in R&D, as its product roadmap reflects a focus on growing its functionality to meet the needs of its enterprise health system clients.
"After spinning out of Cleveland Clinic in 2009, we set out to disrupt the status quo and bring a powerful data platform to healthcare," said Charlie Lougheed, President and Co-founder of Explorys. "This report is another affirmation of the value we bring and a great acknowledgment of our team's hard work and perseverance."
Inspired by physicians and informatics leaders, Explorys combines the most powerful healthcare-computing platform in the world with turnkey solutions for clinical integration, at-risk population management, cost of care measurement, and pay-for-performance solutions. Explorys' cloud-based platform is currently serving 26 integrated healthcare systems, 360 hospitals, and over 317,000 providers to identify patterns in diseases, improve treatments, and outcomes.
To learn more about Explorys and to see a demo of its big data analytics platform, visit the company in booth #5040 at the Health Information Management Systems Society (HIMSS) Annual Conference & Exhibition in Chicago from April 12th through April 16th.
About IDC MarketScape
IDC MarketScape vendor analysis model is designed to provide an overview of the competitive fitness of ICT (information and communications technology) suppliers in a given market. The research methodology utilizes a rigorous scoring methodology based on both qualitative and quantitative criteria that results in a single graphical illustration of each vendor's position within a given market. IDC MarketScape provides a clear framework in which the product and service offerings, capabilities and strategies, and current and future market success factors of IT and telecommunications vendors can be meaningfully compared. The framework also provides technology buyers with a 360-degree assessment of the strengths and weaknesses of current and prospective vendors.
About Explorys
Founded in 2009 as an innovation spinoff from Cleveland Clinic, Explorys provides the healthcare industry a secure, cloud-based analytics platform that leverages big data for clinical integration, predictive analytics, and business intelligence. Its platform enables the country's leading provider organizations to more effectively leverage their data to improve care quality, patient satisfaction, and deliver value-based care. The Explorys solution supports Population Health Management and Accountable Care models while applying the power of massively-parallel data processing to save lives and make healthcare affordable. Since its inception, the Explorys platform has been adopted by 26 major integrated healthcare networks with 315 billion data elements, 50 million unique cared-for-lives, 360 hospitals, and 317,000 providers who collectively deliver $69B in care annually. For more information, visit http://www.explorys.com.
###