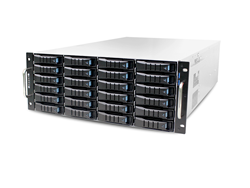 'Anyone can provide hardware, but not everyone has in-depth knowledge in this specific field,' noted C.T. Sun, Chief Architect at AIC.
City of Industry, CA (PRWEB) April 13, 2015
AIC is offering live demonstrations of its storage server hardware, which professionals use to stream video and distribute content, at the National Association of Broadcasters Show, April 13-16, 2015, in Las Vegas. The AIC servers are connected to each other via Ethernet running under the iSCSI protocol.
The SB122-PH is connected to a streaming server and acts an an encoder. It works in conjunction with a third AIC server, the SB301-TO, which broadcasters use to play back video. All demonstrations will include video presented on an ultra high-definition 4K TV, so broadcasters can see how the products will work in their own production environments.
AIC will also offer static demos of its 12Gb/s SAS JBODs, which feature hot-swap expander modules and are available in regular short-depth and high-density versions.
"Visitors will have an opportunity to see our storage server solutions with tool-less features, which offer support for hot-swap drive bays," said C.T. Sun, AIC's Chief Architect. "We will also provide static demos of our storage JBODs, chassis and server hardware. The products are designed to support some specific features so they are suitable for various applications. One supports NVMe drives to deliver high performance, some support high-density and easy maintenance, and some support high-availability."
AIC's experts will be on hand to show broadcasters the company's broad selection of server, storage and chassis hardware as well as to provide guidance and advice to help customers select and build their ideal media infrastructures.
Whether an application is just one step in the broadcast work flow (from ingesting files, editing, archiving, playing to delivering media) or will be used to consolidate multiple steps in the work flow, the team at AIC has the experience and knowledge to recommend the right platform with the correct configuration to customers.
"Anyone can provide hardware, but not everyone has in-depth knowledge in this specific field," noted Sun. "Our live demos will show visitors how AIC can deliver the customized approach that media and broadcast professionals need to work quickly and efficiently."
For more information and to see live and static demos of AIC server, storage and chassis products, AIC invites broadcasters and media professionals to visit booth number SL11508 at the NAB Show 2015.