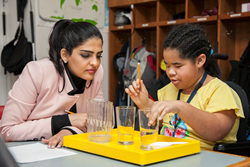 "...hopefully we can take what you do here [at Perkins], which is an excellent teaching program, and bring it to the Middle East." - Princess Ameerah of Saudi Arabia
WATERTOWN, MA (PRWEB) April 12, 2015
Perkins School for the Blind and Perkins International have forged a new partnership with Her Highness Princess Ameerah of Saudi Arabia to better serve young people who are blind or have low vision in the Middle East. The princess will serve as Special Perkins Ambassador to the Middle East, helping to align Perkins' global mission with key organizations and individuals in the region.
The first of many goals will be to determine current educational needs in the region for children who are blind, deafblind or visually impaired with multiple disabilities. Following an initial fact-finding phase, Her Highness will seek to fill educational and social gaps through advocating for education and social inclusion policies, fundraising for programs and, in particular, outreach to parents of children who are blind.
Recently, Princess Ameerah spent several days on the Watertown, Massachusetts, campus of Perkins headquarters at Perkins School for the Blind, the first school of its kind in the U.S. She spent time not only with Perkins leadership, but also with students in the elementary, deafblind and secondary education programs. She witnessed first-hand the way Perkins educators and other professionals bring out the strengths in each child.
At one point in her visit, she was interviewed on the student-run internet station, Radio Perkins. Her student host asked whether Saudi Arabia has schools for the blind. "Yes," she said, "One of the main reasons I came here to Perkins is that we want these schools to have more advanced ways of learning and teaching as well. So hopefully we can take what you do here, which is an excellent teaching program, and bring it to the Middle East.
Perkins International works with partner organizations in 67 countries in Africa, Asia, Europe & Eurasia, Latin America & the Caribbean and the Middle East & North Africa. According to the World Health Organization, there are 19 million blind children under the age of 15 worldwide, almost half of whom have additional disabilities. Delivering quality educational services to those children can present major challenges for any country.
"Every child has a right to an education," said Dave Power, Perkins President and CEO. "Perkins has a strong history of international partnerships around the globe. Our first international ambassador was our most illustrious pupil, Helen Keller." In 1887, Perkins sent Anne Sullivan to teach Keller, who was deafblind and considered uneducable. Keller proved to be a brilliant author and an example of the power of education to unlock the human intellect. "With the generous and thoughtful participation of Princess Ameerah," Power continued, "children in her home region will have more hope and greater opportunities to learn, achieve and become productive, contributing members of their communities and the world at large. Who knows? The next great mind like Helen Keller's may be inside a child who is blind and living today in the Middle East
Perkins is committed to helping people worldwide who are blind to fulfill their potential through five areas of focus: Perkins School for the Blind, Perkins Library, Perkins Solutions, Perkins eLearning and Perkins International. Perkins' mission has been driven by expertise and the pursuit of excellence and innovation since its founding in 1829. Learn more at http://www.Perkins.org
Princess Ameerah of Saudi Arabia is the Chairwoman and Co-founder of Tasamy for Social Entrepreneurship, which is a non-profit organization that focuses on finding sustainable solutions to social problems by encouraging and empowering youth, leaders, private and governmental institutions to achieve social entrepreneurship. The Founder & CEO of a holding company, Time Entertainment, which aims to revive the media and entertainment industry, while providing both employment and engaging content for Arab youth.