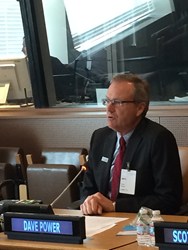 "Right now, 314 million people with visual impairments are being denied access to written materials that would enable them to reach their full potential." - Dave Power, Perkins President & CEO
Watertown, MA (PRWEB) April 13, 2015
At United Nations headquarters in New York City, Perkins President and CEO Dave Power spoke recently as part of a panel titled, "Innovative Technologies: Making the world of books accessible to people who are print disabled." Power's participation is Perkins School for the Blind's most recent engagement in the global movement to expand access to books for readers who are blind or have low vision.
Power joined experts on disabilities policy, blindness education, literacy and intellectual property to discuss the role technology will play on the eventual implementation of The Marrakesh Treaty. According to the World Blind Union, only five percent of the more than 1 million books published each year are available in formats readable by people who are blind or print disabled.
"Right now, 314 million people with visual impairments are being denied access to written materials that would enable them to reach their full potential," said Power. "The world could benefit in so many ways from their contributions."
The Marrakesh Treaty for Persons Who are Blind, Visually Impaired, or Otherwise Print Disabled introduces exceptions to current rules that bar production and distribution of accessible versions of copyrighted books across international borders. The treaty has been signed by more than 80 countries and must be ratified by a total of 20 nations to be put into force. Ratification would pave the way for more readers with print disabilities to buy or borrow books in accessible formats worldwide. (Read the treaty here.)
"The technology to share books securely in a variety of accessible formats is already in place," said Power. "Books and published works of all kinds hold a wealth of knowledge that everyone, regardless of disability, has the right to learn from and enjoy."
Two UN agencies co-organized the March 25 panel: The World Intellectual Property Organization (WIPO) and the Department of Economic and Social Affairs (DESA). In addition to Mr. Power, the panel included Dr. W. Aubrey Webson, UN Ambassador, Permanent Representative of Antigua and Barbuda; Anne Leer, Deputy Director General, Culture and Creative Industries Sector, WIPO; Scott LaBarre, Board Member of the Accessible Books Consortium and World Blind Union representative; and Gopal Mitra, Program Specialist on Children with Disabilities, Gender Rights and Civic Engagement for UNICEF.
Lucinda Longcroft, head of WIPO's New York office moderated the lunchtime event which featured opening remarks by Daniela Bas, director of DESA's Division for Social Policy and Development.
Anticipating ratification of the Marrakesh Treaty, WIPO's Accessible Book Consortium (ABC) will take action – helping those countries establish accessible printing facilities and building an international database of accessible titles. Perkins Library Director Kim Charlson was recently named to the ABC Board, where she will help guide their work to expand access to literature, information and culture.
"There's a lot of work to be done to create a global network of accessible books, but it's both exciting and necessary work," Charlson said. "We're unlocking a whole world of knowledge."
Tweet #MarrakeshTreaty and #RatifyMarrakeshNow
About Perkins
Perkins is committed to improving the lives of people worldwide who are blind or deafblind through five operating groups: Perkins School for the Blind, Perkins Library, Perkins Solutions, Perkins eLearning and Perkins International. Perkins' mission has been driven by expertise and the pursuit of excellence and innovation since its founding in 1829. Learn more at http://www.Perkins.org