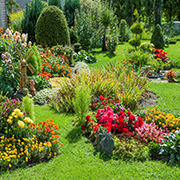 For companies that sell lawn care products, now is the time to jump-start their spring campaigns
Denver, CO (PRWEB) April 14, 2015
April is National Lawn & Garden Month, so there's no better time to spruce up lawn care products with new labels from Lightning Labels.
Following the long, cold winter that many areas of the country experienced this year, green-thumbed Americans are eager to get back out into the garden as the snow thaws to start preparing their lawns for the warm months ahead. In the aftermath of Mother Nature's winter wrath, many gardeners will be shopping for supplies such as fertilizer, grass seed, potting soil, lawn spreaders, mulch and more. The lawn care product market is a competitive one - especially so during crucial times of year like spring - and deploying packaging that pops is one way for companies to maximize their profits by making their wares stand out from the rest.
Why Roll Out Fresh Labels?
Spring is the season of starting over and embracing new beginnings, which makes it the perfect time for companies in the lawn care industry to debut fresh labels. To pique shoppers' interest at a time when many have spring cleaning and gardening on their minds, eye-catching packaging is imperative.
Spring is associated with bright, cheerful hues, and it just so happens that vibrant color schemes are perfect for attracting consumers' attention. Lightning Labels offers high-quality, high-definition, professional-looking labels that feature crisp, vivid colors guaranteed to catch shoppers' eyes. Additionally, Lightning Labels understands that lawn care product labels need to be able to stand up to dampness, dust and dirt, so buyers can rest assured that the labels will be sufficiently durable.
Spring Stickers and Labels Help Showcase Products
Coming up with an effective lawn care product is a great start, but it's only half the battle - and that's where spring stickers and labels come in.
"For companies that sell lawn care products, now is the time to jump-start their spring campaigns," said Scott Proctor, vice president of sales at Lightning Labels. "Lightning Labels can help enterprises take their labels to the next level for National Lawn & Garden Month - and all without breaking the bank."
Companies eager to capitalize on the spring shopping rush sooner rather than later will be glad to hear that Lightning Labels prides itself on its fast turnaround time. Following printing press approval, Lightning Labels offers a 48- to 72-hour turnaround for most orders. Customers also have the opportunity to try out label material samples for free before making a purchase.
About Lightning Labels:
Lightning Labels uses state-of-the-art printing technology to provide affordable, full-color custom labels and custom stickers of all shapes and sizes. From small orders for individuals to the bulk needs of big businesses, Lightning Labels is equipped to handle and fulfill custom label and sticker projects of all types. Best of all, like the name implies, Lightning Labels provides a quick turnaround for every customer's labeling needs. Uses for Lightning Labels' custom product labels and custom stickers include food packaging and organic food labels, wine and beverage labels, bath and body labels, and nutraceutical products, such as vitamins, essentials oils, and herbal remedies, as well as event stickers, adhesive window stickers and more. Lightning Labels strongly supports the development of environmentally friendly printing materials and carries EarthFirst PLA, a new kind of green label material made from corn instead of petroleum. While operating as a high-tech printer, Lighting Labels prides itself on its personalized customer service. Lightning Labels provides one stop shopping for all of your custom label needs. For more information and to place orders online, visit LightningLabels.com. For the latest in packaging news and labeling promotional offers, find Lightning Labels on Twitter (@LightningLabels), Facebook, Pinterest, Google and LinkedIn.