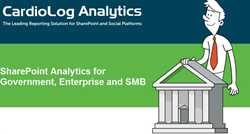 A UNIQUE EDUCATIONAL AND TRAINING CONFERENCE ON SHAREPOINT, WITH A LOCAL FLAVOR
Boston, MA (PRWEB) April 13, 2015
This past weekend, Intlock, developer of CardioLog Analytics, had the privilege of attending SharePoint Fest in Washington D.C. SharePoint Fest was a great opportunity to once again connect with some of the brightest minds in the SharePoint community. The opportunity to see how the Microsoft SharePoint ecosystem is growing and evolving was made possible as a multitude of technical experts from the local Microsoft field exhibited, including CardioLog Analytics.
The city of Washington, D.C itself served as a unique backdrop for SharePoint industry leaders to touch upon a variety of SharePoint topics, most notably the special "Government" track. Attendees were able to join sessions on SharePoint Cloud Solutions for Government Agencies, How to Implement SharePoint for US Government Agencies, SharePoint Government Shared Services Case Study, and more.
As Government Agencies have begun focusing on streamlining their IT processes, it's no surprise that improving SharePoint has become highly relevant to government agency decisions makers. CardioLog Analytics has also put their best foot forward to work with Government Agencies in the pursuit of improving cost effectiveness, control, choice, and compliance within government agency SharePoint portals.
Interested in learning more about how Analytics can improve SharePoint for Governments? Click here.