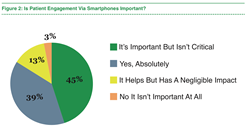 The world has gone mobile, and healthcare technology is going mobile with it
Chicago (PRWEB) April 12, 2015
Patient Engagement needs to go mobile according to a new report published by peer60.
Over 250 United States-based healthcare leaders participated in this report regarding mHealth. Over 90 percent of respondents indicated smartphone technology is important in the effort to successfully engage patients in their own care.
"The world has gone mobile, and healthcare technology is going mobile with it," peer60 CEO Jeremy Bikman said. "Software vendors, with patient-focused solutions, who adapt their systems to work elegantly on mobile devices will see increased market share in the coming months and years."
The market for vendors with smartphone-based patient engagement solution is wide open. Only 21 percent of hospitals have this technology, though another 12 percent are sure to purchase in one of these solutions this year. Only 14 percent of respondents indicated their facility does not have plans to get smartphone-based patient engagement solutions.
"This research indicates healthcare IT vendors have an outstanding opportunity over the next 18 months," peer60 Vice President Tyler Page said. "We'll be curious to see who steps up and delivers what the market desperately wants and absolutely needs."
peer60 asked respondents (Chief Medical Officers, Chief Medical Informatics Officers, Marketing VPs, Patient Access leaders) who they are currently using for smartphone-based patient engagement and who they will likely purchase from in the future. These results, among much more, are included in the report.
The following vendors are included in this research: Epic, Cerner, eClinicalWorks, Allscripts, athenahealth, RelayHealth, SCI Solutions, MyHealthDirect, Optum, NavisHealth, iTriage, Castlight Health, Pri-Med, Bivarus, Axial Exchange, NextGen, mProve, Influence Health, Sharecare, MEDITECH, ChatterPlug, CattailsMD , Tactio Health Group Medisys Health Network, NoMoreClipboard.com.
The full report is available to the public here.
About These Reports
peer60 publishes reports on the healthcare industry every four to five weeks as a public service. These reports are available at no cost. If you would like to suggest a topic for a future peer60 report, email peer60 Vice President Tyler G. Page at tpage(at)peer60(dot)com.
About peer60
As a pioneer in Smart Data, peer60 is committed to helping businesses acquire crucial market and customer satisfaction data in a timely, affordable manner. peer60's platform enables companies to receive four times the response rate in a quarter of the time, reaching relevant audiences all around the world. Join the companies around the globe who are already getting Smart Data from peer60. For more information visit http://www.peer60.com or call (801) 692-1532.