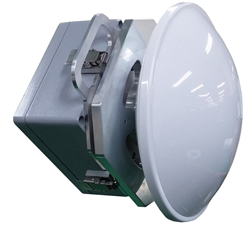 San Diego, CA (PRWEB) April 14, 2015
Solectek, a leading supplier of broadband wireless data communications systems, announced improvement of the EB-Plus PTP link latency figure to unprecedented 20 nanoseconds per radio. The radio link, operating at 70/80 GHz frequency band, has full-duplex link speed of 2.5Gbps with improved link distances.
To improve the link distance, the SkyWay-EB PLUS uses higher output power amplifier (23dBm Tx power) and improved antenna gain with lower internal losses. The stand-out feature is the ultra-low latency that is only possible with a true layer-1 link.
"SkyWay EB Plus now boasts latency figures better than a fiber connection. With increased speed of 2.5 Gbps over other products operating in the 70/80GHz bands, we can better serve the financial application that are demanding higher capacity links with lowest latency possible" says Dr. Eric Lee, CEO of Solectek.
The EB-Plus achieves the 2.5 Gbps with a single radio design, as opposed to 2+0 double radio configuration. The single radio design saves expenses associated with radio hardware (twice the cost in a 2+0 configuration) and tower loading (heavier due to extra radios and OMT). Use of a single-radio also leads to a simpler and quicker installation logistics.
The Ethernet interface on the radio is done with a 2.5Gbps SFP. The user can connect to latest switches that feature 2.5G and 5G ports or to 1G port switches via a 2-to-1 multiplexer.
About Solectek Corporation
Founded in 1989, Solectek has long been a leader in the broadband wireless networking industry. Headquartered in San Diego with offices/partners worldwide, Solectek has installations in over 100 countries. Solectek manufactures a full line of broadband wireless connectivity products including last-mile access, video surveillance transport and high capacity backhaul up to 5 Gbps spanning frequencies from 200 MHz to 80 GHz. For more information, visit http://www.solectek.com.
Information Contact
Marketing Communications
Solectek Corporation
858.450.1220
info@solectek.com