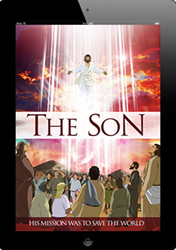 AGOURA, CA (PRWEB) April 13, 2015
AGOURA, CA – April 13, 2015 – GD Entertainment & Technology, Inc. (OTC Markets: DNNC), today announced that it has forged an agreement in principal with DPZ Technology of Grand Rapids, MI, for the distribution of "The Son Risen", a graphic novel for children and teens. "The Son" is the animated story about the life of Jesus, the world's greatest "super hero." DPZ, the digital distribution and marketing arm of Dickinson Press, Inc., is a leading distributor of digital and print content for authors worldwide. This agreement, which provides GDET with both a percentage of gross revenues and net profits, covers both digital (eBook) and print book distribution rights.
Dong Chung, CEO of GDET stated, "We are excited to be working with DPZ to introduce our new faith-based digital animated book, 'The Son Rises.' E-books are growing rapidly with all demographics, especially children and teens, and DPZ has the experience and marketing power to help bring our engaging property to the market. We anticipate this relationship generating monthly revenue for us beginning of next quarter."
"We are excited about our relationship with GDET and believe 'The Son Rises' will be a cornerstone property of our distribution pipeline," said Terry Ziemba, Managing General Partner of DPZ. "This story is universal and timeless, but told in a way that the juvenile market can relate to and enjoy."
GDET and DPZ will introduce "The Son Rises" as an eBook, and will also be available in print on demand, and is planned as the first in a series of graphic novels of Jesus' life and teachings.
About GD Entertainment & Technology, Inc.:
GDET specializes in the development, production and exploitation of media and technologies worldwide. GDET and its management have created, produced, and/or distributed a variety of family-friendly content, including: Conan the Barbarian animated DVD, animated Voyages of Young Dr. Doolittle and Adventures of Odyssey and the acclaimed graphic novel series, The Almighty Bible, an ebook & print version of the Bible for teenagers. GDET principals have over 80 years of combined experience in producing and distributing media, consulting to and licensing major intellectual properties globally, including Warner Brothers, Marvel/Disney, and Mommy & Me. GDET has several projects in development including an animated feature film, a live stage show and an adaptation of a successful juvenile book series for digital video and mobile games.
Information in this document constitute forward-looking statements or statements which may be deemed or construed to be forward-looking statements within the meaning of the Private Securities Litigation Reform Act of 1995. The words "estimate," "project," "intend," "expect," "should," "believe," and similar expressions are intended to identify forward-looking statements. These statements involve, and are subject to known and unknown risks, which could cause GDET actual results, performance (financial or operating) or achievements to differ from the future results, performance or achievements expressed or implied by such forward-looking statements. The risks, uncertainties and other factors are more fully discussed in GDET filings and Disclosures. All forward-looking statements attributable to GDET herein are expressly qualified in their entirety by the above-mentioned cautionary statement. GD Entertainment & Technology, Inc. disclaims any obligation to update forward-looking statements contained herein, except as may be required by law.
Contact:
Lawrence Bracco
Tel : (818) 338-5723 larrybracco(at)gdetinc(dot)com