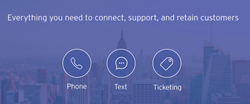 Santa Monica, CA (PRWEB) April 27, 2015
Telecom disruptor, Vonjour.com announced the release of its free porting service for RingCentral customers. Since its 2014 product release, the company has seen a surge of port requests from RingCentral users demanding a more cost effective, customer support oriented, and user friendly phone and text messaging service for small business.
"The response of RingCentral users to Vonjour's new product offering is more proof of the large demand for a more disruptive and powerful product offering." said CEO and co-founder, Daniel Tawfik. "Vonjour's business phone system and text messaging solution provides a perfect alternative for RingCentral users looking for a more user friendly and robust communications experience."
The full suite of the Vonjour product offering is a full contact center solution for small business:
Phone System
Vonjour provides an enterprise level phone system on any device and allows you to look professional for your customers. Get a company mainline or toll free number. Organize sales, customer support, and an unlimited amount of departments with a virtual receptionist. Direct callers with custom greetings, and business hours. Best of all, the phone system is incredibly easy to administer—setup your support team and virtual receptionist within 5 minutes and
you don't need to purchase any hardware to get started.
Text Messaging
Vonjour text messaging is designed to fight customer churn and increase support engagement. Vonjour comes equipped with event based text messaging and allows organizations to send text messages based on the activity of its customers. Unlike email, with a 98% open rate, text messaging is an almost guaranteed way to reach customers.
Vonjour allows an organization to send a text message based off of a triggered event like a failed payment or a demo request. Text messaging allows a business to reach a customer with a customized before the company becomes irrelevant to that customer.
The Vonjour operator's dashboard allows a company to conduct customer service through chat—an organization can respond to customer inquiries in the same way you would conduct chat and email support.
Ticketing
Vonjour was started not only to be a better phone solution, but to provide a better customer service experience. Any customer request, whether it is a phone call or a text message, can be turned into an inbound support ticket. Tickets can be managed by any member of the the team. An entire team can listen to sales recordings, assign a ticket, and solve a ticket to the point of resolution.
How to Get Started
RingCentral users can port their numbers over to Vonjour by creating a trial account. The Vonjour customer support team will help initiate the port on behalf of the customer at no cost.
RingCentral users can redeem their exclusive perk by visiting the Vonjour for RingCentral users signup page.
To learn more about Vonjour and its business phone, text messaging and center solution, visit Vonjour.com
About Vonjour: Vonjour is a Santa Monica based company with a mission of being at the center of customer conversations. We provide a seamless, free, and light-weight solution for an entire company to connect to its customers, while providing an un-paralleled view of what its customers are saying.