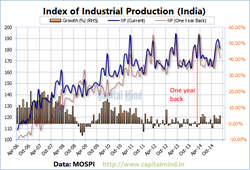 The seed round was led by Raghu Vohra of BVG, who will also be joining the board. Raghu brings with him a rich background in financial analytics being a key member of two successful fintech startups and is on his third sortie now.
LA, USA (PRWEB) April 20, 2015
Leading a syndicate of early stage US and Indian investors, BlackstoneValleyGroup recently announced the closing of a seed round investment for Capital Mind.
With the close of the investment round, Capital Mind brings financial markets to life with rich analytics, actionable insights, and big data research. The company provides analysis of macroeconomic events, policy changes, market metrics, individual stocks/bonds offerings, and essentially captures the storyboard of the Indian markets.
With its freemium model, Capital Mind provides charts and analysis for free, while reserving the best features for Capital Mind Premium members who also receive:

Macronomics: The Awesomeness of All Things Macro
Portfolios: The Smart Momentum Portfolio with a 90%+ CAGR from Dec 2013 to date, in addition to the Long Term Portfolio
Optionalysis: An in-depth look at the derivatives markets with data analysis and special opportunities
Premium Analytics: Housing indexes, technical analysis tutorials, currencies, fixed income and more
Deepak Shenoy, the CEO of Capital Mind, is a serial entrepreneur regularly featured on CNBC India (see embedded video clip) and a contributor to several financial publications, including Yahoo, Pragati, JetLite and Business Standard.
Here is what Deepak has to say: "The Capital Mind team looks forward to delivering even better analytics, insights and easy-to-use financial solutions to our customers and subscribers."
Curious to see what Capital Mind has to offer? Please check out their website at http://www.capitalmind.in and subscribe to their posts. The website and subscription are free; members only pay if they want to receive in-depth insights and actionable analysis. Whether posting their expert opinion, introducing new products like Outliers or Insider data, or providing excellent commentary on the annual Indian Budget and the various happenings around the markets, Capital Mind is a treasure trove of information and analysis.
About BlackstoneValleyGroup:
We strive to reflect the Global Investment Opportunity by investing in solutions and entrepreneurs. For more information about our investment philosophy, please read our blog at http://www.blackstonevalleygroup.com/blog/.
About Capital Mind:
Capital Mind, based in B'lore, India, brings new age financial analytics to their readers, subscribers and partners by providing detailed, in-depth analysis through the visualization of publically available data.
For more information, visit http://capitalmind.in.