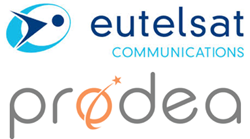 By deploying Eutelsat's 'smartLNB' with Prodea's ROS® platform, we can bring the next generation of Internet enabled services to a far wider audience through our service provider partners.
Las Vegas, NV (PRWEB) April 13, 2015
Eutelsat Communications (Euronext Paris: ETL) and Prodea Systems, Inc. are for the first time unveiling the capability for service providers to offer a highly competitively-priced suite of connected TV services to consumers located in Eutelsat's global footprint. This capability is possible through the combination of Eutelsat's 'smartLNB' and Prodea's ROS® platform.  The companies are demonstrating the complete solution at the NAB Show in Vegas beginning April 13th, 2015.
Eutelsat's "smart LNB" is a low-cost modem that bundles satellite reception of TV channels with a narrowband satellite return link for short transmissions of IP packets. As such, it opens the door for broadcasters to grow beyond their current offerings of linear television to an interactive and individualized set of services beyond TV.
Prodea is the first company to develop seamless access to the broad range of services comprising the connected home and the emerging Internet of Things (IoT).  Prodea delivers on this promise through ROS®, a managed services delivery platform that enables traditional and emerging service providers worldwide to deliver seamless access between people, services, data and devices in a fashion never before available.
The combination of the two technologies will enable the following types of services to be delivered to users:

Satellite TV (SD and HD) and/or Live IP Streaming with electronic program guide (EPG) supported and personal video recording (PVR) capabilities
Push Video-On-Demand supporting both subscription and transaction video-on-demand business models
Over-the-top (OTT) video and music services that are optimized for delivery via satellite
A wide range of IoT services that include: Home Monitoring, Security, Control, Access, Energy Management, eHealth & wellness, eLearning, and eGovernment services
"Our relationship with Eutelsat is a great example of how two disruptive innovations can be combined to deliver an even greater impact on the market," said Anousheh Ansari, CEO and Co-Founder of Prodea Systems.  "By deploying Eutelsat's 'smartLNB' with Prodea's ROS® platform, we can bring the next generation of Internet enabled services to a far wider audience through our service provider partners."
"In developing the 'smartLNB' solution we knew we had a compelling proposition to enable our customers to enjoy Live TV and Video-On-Demand on all screens throughout the home with a high level of interactivity and reliability, said Antonio Arcidiacono, Director of Innovation, Eutelsat.  Arcidiacono continued, "By combining the "smartLNB" with Prodea's technology we are able to offer broadcasters and service providers a high-end solution for all types of connected home and IoT applications."
At NAB, Eutelsat and Prodea invite interested service providers to visit Eutelsat's booth SU6713, LVCC, to receive a live demonstration of this market leading solution and experience a new generation of Entertainment and IoT services
About Prodea Systems
Prodea is the first company that delivered on the promise of the connected home while finally making a seamless connected life possible for everyone. The Prodea Residential Operating System (ROS®) is a unified platform of the Internet of Things that enables diverse Service Providers worldwide to rapidly and cost-effectively deliver autonomous, agnostic and easy to use connectivity and services between people, data and devices.
ROS® is a managed service delivery platform agnostic of connection, service, application, and protocols, solving the challenges that both traditional and non-traditional service providers face in delivering the Internet of Things to consumers. This approach to the Internet of Things makes the ROS® platform a far more viable proposition in the immediate short term by creating a new world where services, devices, and data can be exchanged seamlessly. This is proven by current ROS deployments spanning Africa, Europe, Latin America, the Middle East, Southeast Asia and the United States.
Headquartered in Richardson, Texas, Prodea maintains additional offices in New York; Los Angeles; Mumbai; London; Dubai, United Arab Emirates; and Johannesburg. 
For more information about Prodea Systems, please visit: http://www.prodea.com or contact Andrew Tauhert at +1-214-278-1876.
About Eutelsat Communications
Established in 1977, Eutelsat Communications (Euronext Paris: ETL, ISIN code: FR0010221234) is one of the world's leading and most experienced operators of communications satellites. The company provides capacity on 34 satellites to clients that include broadcasters and broadcasting associations, pay-TV operators, video, data and Internet service providers, enterprises and government agencies.
Eutelsat's satellites provide ubiquitous coverage of Europe, the Middle East, Africa, Asia-Pacific and the Americas, enabling video, data, broadband and government communications to be established irrespective of a user's location.
Headquartered in Paris, with offices and teleports around the globe, Eutelsat represents a workforce of 1,000 men and women from 32 countries who are experts in their fields and work with clients to deliver the highest quality of service.
For more about Eutelsat please visit http://www.eutelsat.com.
Press:
Vanessa O'Connor - Tel: + 33 1 53 98 37 91 voconnor(at)eutelsat(dot)com
Marie-Sophie Ecuer - Tel: + 33 1 53 98 37 91 mecuer(at)eutelsat(dot)com