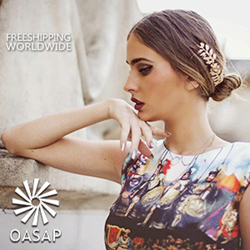 Fashion clothing requires fashion girls to interpret.
New York (PRWEB) April 18, 2015
As a well-known online fashion vendor, OASAP believes that good quality and unique designed products can attract more attention from customers. In order to diversify its products, OASAP had launched the original designer program in February 2015. Now the program provides at least ten collections from OASAP's own designers every other week.
Fashion clothing can be beautifully interpreted by fashion loving girls, and OASAP has upgraded its fashion blogger program specifically for that, to recruit fashion loving girls all around the globe. With this plan, OASAP starts looking for fashionistas who are able to exquisitely present OASAP's outfits in a stylish and fashionable way. "The influential publishers should be more than just beautiful, but also have their own unique style for their active audiences which can bring tons of traffic through different social media channels. They will pair up a top with a bottom and sets up some beautiful head-to-toe OASAP outfits. We also want speedy feedback and close interaction," explained Miss Ariel, the chief of Fashion Guru Program.
"It's a new and novel attempt from OASAP to show that they're not just an ordinary fashion online store, With this kind of special features,OASAP can offer not only clothing for their customers, but also latest trending in the business as well as the best services," said Mr.. Moore, Founder and CEO of Oasap.com.
OASAP also offers express shipping to publishers. More importantly, when publishers post their reviews with beautiful try out pictures for the products, OASAP will select some of the best and publish them on all OASAP advertising channel. Hence in return OASAP promotes for these publishers as well, with the intention to build mutual beneficial partnerships.
If you want to become a partner, please join it here.
ABOUT US
OASAP IS: A High-street Fashion Online store
OASAP Likes to: Deliver fashion & love! OASAP is a global online store dedicated to high-street fashion by offering various kinds of women's apparel, bags, shoes, jewellery accessories, beauty products, etc.
OASAP was founded in late 2011, and has already grown to be the leader of high fashion online stores. We keep updating products at a high rate including lace maxi dress, Ruffled Sleeveless Chiffon Dress, Sultry Plunging Neckline Backless Little Black Dress, Fashion Mesh Layered Maxi Skirt, Classic Striped Chiffon Top every day. Now we update more than 300 new products each week. The products mentioned before definitely belong to the latest fashion trend.