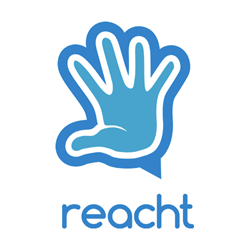 "Reacht's meets the needs of consumers and advertisers," said Joanna Bloor, showcase moderator and former VP of Sales Operations at Pandora. "That it enhances radio, streaming and podcasting content sealed the deal."
Las Vegas, NV (PRWEB) April 13, 2015
Yesterday, Reacht won RAIN Summit's New Startup Showcase at the NAB Show. The Showcase featured emerging technology companies seeking to disrupt the radio, streaming audio and podcasting markets.
Media companies use Reacht to enhance their content and audience experience. Reacht delivers 30 times higher engagement than Facebook. And unlike other social networks, media companies get valuable consumer data and generate digital revenue.
"Reacht's meets the needs of consumers and advertisers," said Joanna Bloor, showcase moderator and former VP of Sales Operations at Pandora. "That it enhances radio, streaming and podcasting content sealed the deal."
Reacht enhances program content with polls, opinions, rich media and facilitated peer-to-peer conversation. Audience interactions generate robust profile data, which is used to deliver highly-targeted advertising.
"Unless content is delivered right to a consumer's finger tips, they are not going to engage," said Dan Morrison, Reacht's CMO. "But if you push them content and ads they want, they will love you for it – that is Reacht's mission."
Reacht is developing partnerships with content producers, media players, and advertising exchanges to imbed the Reacht technology to gain broader distribution.
Reacht is also participating in The NAB Show's New Idea Showcase on Wednesday, April 15, 2015. For more information, click here.
Contact Dan Morrison at dan(at)reachtapp(dot)com or (540) 642-8104 for more information or partnership opportunities.
About Reacht
Reacht is a software company located in Fredericksburg, VA that make simple, easy to use software that allows people to engage and interact. It has been creating innovative enterprise, consumer and mobile software for over twenty years.
About The RAIN Summit West
The RAIN Summit West is an annual educational and networking event for the Internet radio and online audio industry, taking place as a partner event to the NAB Show.