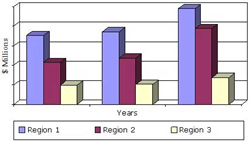 The global market for picture archiving and communication systems (PACS), radiological information systems (RIS) and cardiovascular information systems (CVIS) is expected to reach nearly $5.1 billion in 2019
Wellesley, Mass. (PRWEB) April 13, 2015
Wellesley, Mass., April 13, 2015 – BCC Research (http://www.bccresearch.com) reveals in its new report on the medical images market that there is a progressive trend toward enterprise-wide image and information management solutions. For instance, digitized images from different departments within a healthcare facility (such as radiology and non-radiology) can be integrated with IT systems and accessed from a single point of end-user interaction.
The technology required for the acquisition, storage, display, distribution and retrieval of medical images and healthcare information has undergone a dramatic change over the past decade. The consolidation and distribution of patient information between departments within hospitals represents a formidable challenge for information systems and is a critical factor to be assessed. Image management solutions have been upgraded from single modality specific solutions and department-based solutions to enterprise-wide image management solutions.
The capacity needed to store medical images and data represents a further challenge. Facilities or healthcare practices are unable to collate data effectively because of the lack of integration between various information systems and imaging modalities. With the growing significance of digital imaging, hospitals are acquiring picture archiving and communication systems (PACS) and clinical information systems such as radiological information systems (RIS) and cardiovascular information systems (CVIS) to manage the increasing volumes of patient data and medical images.
"The trend in the medical industry is toward enterprise-wide image management solutions wherein images from radiology, cardiology and other departments within a hospital and across a network of hospitals can be linked together with other clinical information portals and systems such as a PACS," says BCC Research analyst Simone Carron-Peters. "PACS allows clinicians to have access to large volumes of patient medical history, making cross referencing convenient and easier. This saves time and enables faster turnaround times with each patient."
Radiology PACS or R-PACS are now standard in most medical facilities. Realizing the benefits of the solution, there is growing demand from cardiologists and interventional radiologists who also want the same ease of access to digitally stored images. With the increase in the number of cardiology procedures performed each year, the demand for workflow efficiencies makes image and information management solutions inevitable.
Storage, Transfer and Analysis of Medical Images: Global Markets provides market estimates and projections in U.S. revenues for the forecast period of 2014 to 2019.
Editors and reporters who wish to speak with the analyst should contact Steven Cumming at steven.cumming(at)bccresearch(dot)com.
About BCC Research
BCC Research publishes market research reports that make organizations worldwide more profitable with intelligence that drives smart business decisions. These reports cover today's major industrial and technology sectors, including emerging markets. For more than 40 years we've helped customers identify new market opportunities with accurate and reliable data and insight, including market sizing, forecasting, industry overviews, and identification of significant trends and key market participants. We partner with analysts who are experts in specific areas of industry and technology, providing unbiased measurements and assessments of global markets. Recently selected as the world's greatest market research company, BCC Research is a unit of Eli Global, LLC. Visit our website at http://www.bccresearch.com. Contact us: (+1) 781-489-7301 (U.S. Eastern Time), or email information(at)bccresearch(dot)com.